Since this cursed system was implemented, Somalia has gotten WORSE not better in the last 20 years. I'll show you conclusive evidence that this system has been a cancer to Somalia.
In 2020, Al Shabaab still control these towns and regions;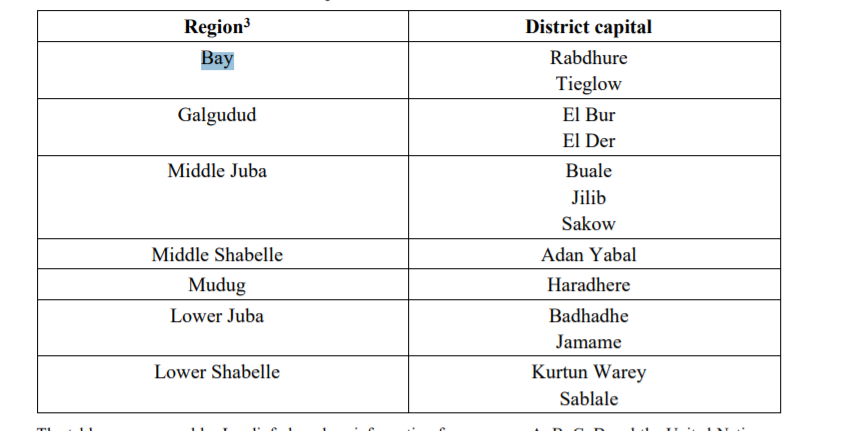 Not only that, they still bomb people daily from Xamar to Garowe, and when businesses pay tax to Shabaab, this tax funds their next attack and then rinse and repeat. It's a sick cycle. And as each State has their own agenda, it's made Al Shabaab more
Furthermore, Southern Somalia is under foreign occupation by AMISOM, states such as Puntland and Somaliland are essentially colonial administration of Ethiopia that answer directly to Addis Ababa. This system devalues patriotism and citizenship, venerates clan identity, and multiplies the number of minorities and human rights violations in every district.
Clan federalism breeds nepotism and incompetence and utterly violates any form of a meritocracy in Somalia. An illiterate Maxamed Salebaan or Habar Awal would be chosen over a 400IQ nobel peace prize winning Bimaal who lived in Somaliland or Puntland as President. This is a fact.
Now, before the usual crowds states "B-b-but I thought Puntland good, south bad?!" I'm afraid this isn't the case, poverty in Puntland is in line with the rest of Somalia. These rates are WORSE than under Siyad Barre
Mogadishu (Urban) = 74%
North-east Urban (Nugaal,Bari,Mudug) = 59%
North-west Urban (Woqooyi G,Awdal,Sanaag,Sool,Togdheer) = 63%
North-east Rural (Bari,Mudug,Nugaal)= 63%
North-west Rural (Awdal,Sanaag,Sool,Togdheer,Woqooyi) = 77%
IDP Settlements = 76%
Central regions Urban (Hiraan, Middle Shabelle, Galgaduud) = 59%
Central regions Rural (Hiraan, Middle Shabelle, Galgaduud)= 65%
Jubbaland Urban (Gedo, lower and middle Juba)= 53%
South West Urban (Bay, Bakool and lower Shabelle) = 63%
South West Rural (Bay, Bakool and lower Shabelle) = 75%
Nomadic population = 72%
http://microdata.worldbank.org/index.php/catalog/3181
Now for Somaliland, and I mean that place is so messed up, I just don't know where to begin. The Somaliland central bank said they managed only a 1% GDP growth rate over a 5 year period.
It'll take them 200 years to reach the GDP of Lesotho at this rate. The leadership of that state is so inept it hurts to watch. Not only that, their poverty rates are WORSE than the rest of Somalia.
Central Microdata Catalog
Lastly, Somalia as a whole is worse off now than in 2006, both politically and socially.
HDI
for all of you who are unaware is a metric developed and compiled by the United Nations to measure and various countries' levels of social and economic development. It is composed of four principal areas of interest:
-
Mean years of Schooling
-
Expected years of Schooling

- Life expectancy at Birth

- Gross income per capita

In all 4 areas, EVERY region of Somalia is more worse off than in 2006. I'm not kidding, The Somali Taliban did more to combat poverty than Federal Somalia.

We need a a Democratic centralized state for their to be genuine change in the nation. Tribal states will continue to be vassals to Ethiopia and Kenya, and will have our resources stolen by far more productive nations. I don't want to see Khaleeji Arabs continue to enrich themselves on our resources, or have a monopoly on our industries. Somalis will continue to kill each other over treeless villages while there is gold under their feet unless we have a centralized state to disarm these fools.