A sane man to an insane society must appear insane
Stay WOKE
VIP
During his 20 years as a criminal defence lawyer, Joseph Neuberger has defended more than 400 cases involving charges arising from domestic relationships. Many, he says, relate to separation and bitter family court battles.
"Over the past 10 years, I have noticed an increase in the prevalence of these types of offences with a disturbing trend to use the criminal process as a quick means to obtain exclusive possession of the matrimonial home and thwart custody and access to the children of the relationships," says Neuberger.
"I have successfully established fabrication in at least 15 per cent of the cases with very clear contradictions in evidence, including differences in affidavit evidence tendered in the family court proceedings.
Yet not one case resulted in charges being laid against the complainant."
The absence of witnesses makes prosecution of false allegations difficult. While Neuberger emphasizes the need to take legitimate cases seriously, he worries there isn't much in place to prevent a spouse from fabricating an allegation.
It's a trend Murray Maltz, who has been practising family law for 27 years, has also noticed. But there are no studies, no way to quantify the problem, and, most troubling, no solutions at hand.
When someone makes a complaint, police must lay charges.
In family litigation, a criminal charge is like a red flag even when the case is still before the court. Additionally, the introduction of the criminal process can throw a wrench into any friendly resolution of the matter.
"So if you want to play the game, 'I want custody, I want to control the situation,' often people will take the position, 'I'm going to call the police,'" says Maltz.
Immediately, the accused leaves the home and can't communicate with the spouse and the children or come within a certain distance of the house. That makes the issues of custody and access more difficult.
As a result, according to lawyers, the spouse making the allegation has an edge in the case. With exclusive access, the children themselves could become pawns in the case.
https://www.lawtimesnews.com/author/na/lawyers-alarmed-at-criminal-charges-in-family-cases-9383/
@Mercury
@AussieHustler
@Knowles
@VixR
Husbands have been wrongly accused of domestic abuse after changes to legal aid rules, a charity has warned.
Figures show that there has been a significant rise in applications for non-molestation orders, which are granted in urgent abuse cases.
Parent advocacy group Families need Fathers said that in some cases parents were encouraged to allege abuse in order to be granted an order, which then allows them to access legal aid funding.
The law was changed in 2012 to remove legal aid for family court cases, except where abuse is involved.
The statistics, obtained following Freedom of Information requests by the group, show that the number of orders made in England and Wales has risen by 30 per cent since 2011.
Most of the orders are applied for by women, with more than 22,000 granted in 2017 compared to less than 2,000 which were applied for by men.
A spokesman for Families need Fathers said that in some cases the order can be made when the respondent is not present, and they are likely to be unrepresented by a lawyer and may not understand its its implications.
"A lot of people are coming to us through our support groups who have received documents through the post, they don't really understand the significance of them and if they don't act they make mistakes.
https://www.google.co.uk/amp/s/www....ed-abuse-changes-legal-aid-rules-charity/amp/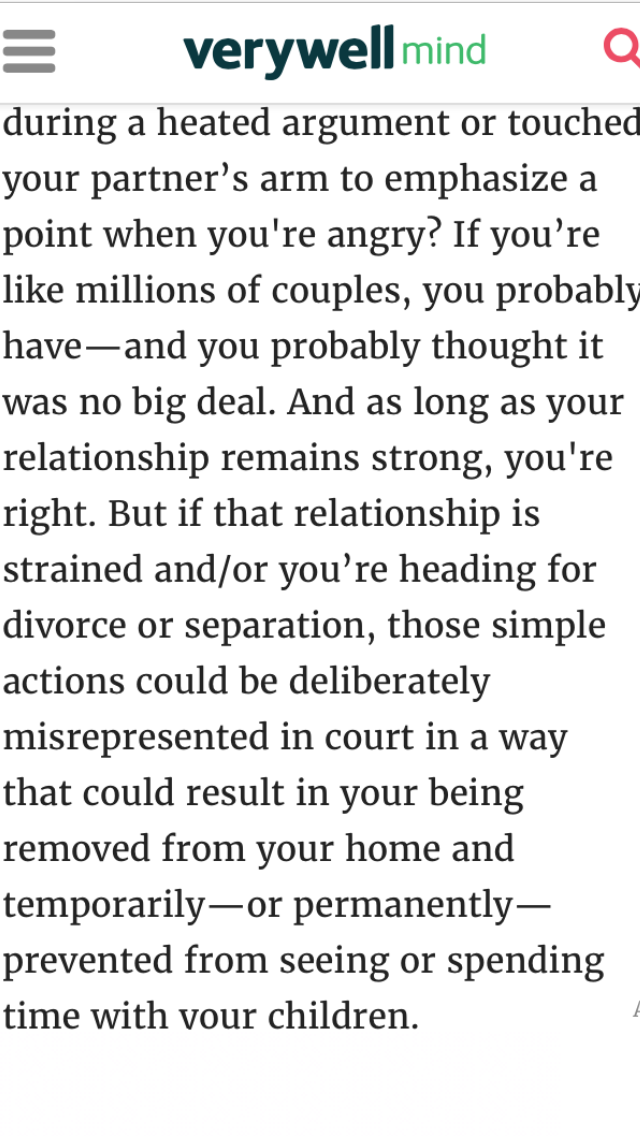 https://www.verywellmind.com/false-domestic-abuse-claims-4100660
Last edited: