How much do you guys know about the Bolsheviks?
They were a communist group that overthrew, and killed, the Emperor of Russia: Nicolas II, and kick-started what's to become Soviet Russia. The recognisable Joseph Stalin was among the initial conspirators along with fellow key players Vladimir Lenin and Leon Trosky.
A couple of weeks before the 'October Revolution' (1917), Lenin organised a secret meeting in St. Petersburg with the other key revolutionary members, and made the final decision to kill the good old Emperor as a precursor for a violent takeover of the Russian Empire.
Now who was in this small group of key Bolshevik members you might wonder?
Two Russians (Buvnon and Lenin [Jewish maternal granfather])
One Georgian (Stalin)
One Pole (Dzerzhinski)
and Six Jews (Trosky, Kamenev, Zinoviev, and Sokolnikov among others)
A rather strange line up don't you think? Jews were never more than 3 or 4% of the country's population, so how can they make up exactly a half of the revolutionary council? Why did they come to dominate the newly established post-revolution groups/committees like the Military Revolution Committee, the Central Committee and the Political Bureau?
Why is the official narrative distancing the Jewish role in the Bolshevik revolution and Boshevism as a whole?
I have an excerpt of what the fat bastard Winston Churchill (ibn Shaydan) had to say about the Bolsheviks in his
Illustrated Sunday Herald
essay (1920):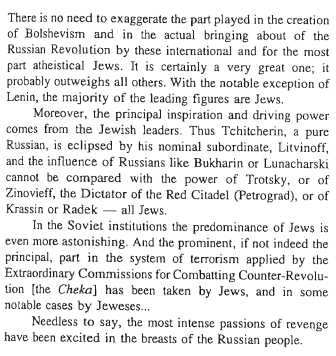 I believe that the answers lie in paper trail of one Jew in particular who was absolutely key to Bolshevism: Leon Trotsky. If you look into his life and work (and marriage ties), you'll come to understand that Communism is just the manufactured alternative to the other rotten system of Capitalism. Both idealistic on paper and impossible to execute, both ultimately there to serve the old banking families who've been eating nicely for the past few hundred years - during war and peace. It's a game of smoke and mirrors played on a global scale.
What do you guys think? Would you refute that the Bolshevik Revolution in Russia was effectively a Jewish coup d'etat?