UPDATE



6th September 2021:
Prime Minister Roble Fires NISA Chief Fahad Yasin
------------------------------------------------------------------------------------
Timeline of events and background information
In 2017, Ikran Tahlil Farah worked as an assistant for the assassinated Mayor of Mogadishu, Yarisow. Later, she joined the National Intelligence Service (NISA) and became the Head of the Cyber Security Unit.
July 12th:
Reports come out that Ikran Tahlil was missing, she was last seen on CCTV footage entering a NISA vehicle.
Ikran's mother Qali blames NISA Chiefs for her disappearance; the chief is Fahad Yasin, Deputy Chief is Kulane Jiis. Fahad Yasin left the country 1 day after her disappearance.
2nd of September 2021:
NISA accuses AlShabab of killing Ikran Tahlil but does not provide evidence
3rd September 2021:
AlShabab responds with a press-release in which they denied killing Ikran and they blame the Government for her disappearance and call it a 'political assassination'.
Throughout her disappearance, multiple reports came out that she may have known incriminating information about the Government/NISA
============================================================
3rd September 2021: AlShabab denies killing Ikran Tahlil Farah which is what NISA accused them of yesterday. They blame the Government for carrying out a political assassination on Ikran Tahlil.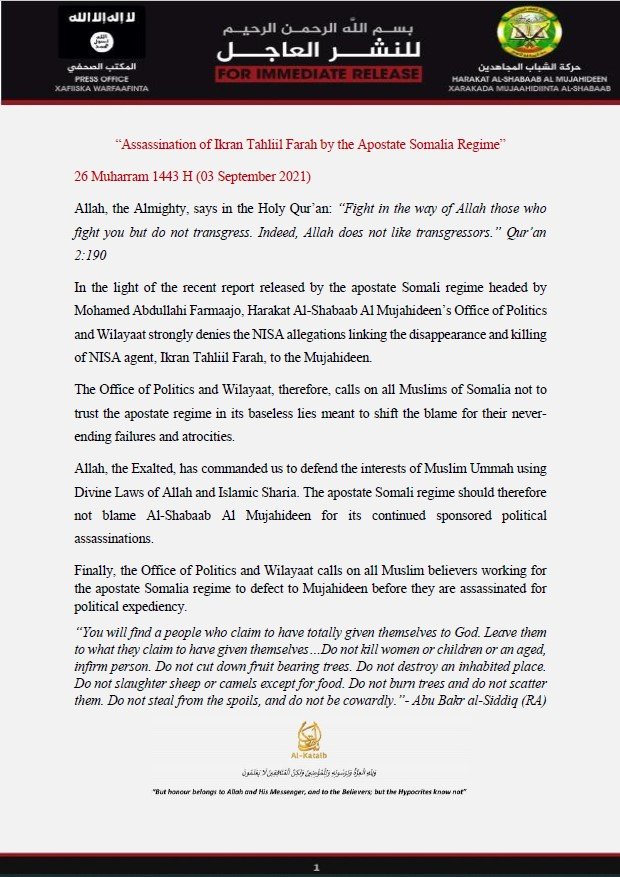 2nd September 2021: NISA claims that AlShabab killed Ikran Tahlil