I could agree with you but then we'd both be wrong
HALYEEY
VIP
All figures in this thread are taken either from the Office for National Statistics or from the
Guardian
.
There are an estimated 250,000 Somalis living in the UK. But the real figure may be higher as many Somalis with Dutch residence permits and passports are believed to have moved to the UK because of the higher benefits paid here compared to Holland.
Unemployment amongst Somali men is believed to be around 65%. As you'll see from the diagram, this is many times higher than any other ethnic group.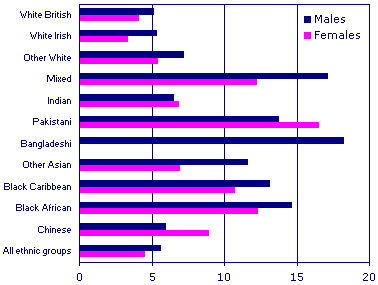 If we just play with a few imaginary figures: let's assume that the 250,000 Somali population includes 60,000 men of working age and that of these, 65% (39,000) are each claiming about £20,000 a year in benefits (unemployment, jobseekers' allowance, housing benefits, child benefits, council tax benefits and so on) for themselves and their families. If we could bring the unemployment rate for these Somali men down from 65% to the 15% for all black Africans, then another 30,000 Somali men would be in work and we'd be paying around £600m less a year in benefits.
The problems with the Somali community are not just in the high levels of unemployment. In our schools just 33% of Somali students passed five GCSEs, compared with 59% for students from other African communities and 80% for Chinese students.