Apart of me thinks that the N word should only be allowed to say amongst people who have ancestors who had been slaves. Somalis never were slaves but had slaves themselves. It is quite weird to see a twt xalimo saying the n word 24/7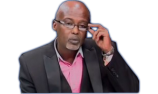 I mean,, how can you try to relate to blk people and cry for their injustice in history when your people had slaves themselves and were engaged in the arab slave trade?

Even if you try to tell this to a twt xalimo theyre going to claim that somalis themselves were slaves snd try to disort somali history.
I wonder what somali bantus feel when they see somalis girls doing shit like that.

Should somalis even say the N word?
//Stole from random geeljire
Last edited: