This is a thread whereby you can ask any riddle in Somali language.
If the language is hard for you, you can use or permitted to use English.
Imma start it with few easy ones, but in Somali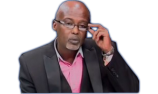 Sua'asha koowad/first question
These are easy, don't stress
Wax hadii nadhiif/clean yahay uu gaduud/casaan yahay, hadii uu wasakh yahay uu cadaan/white yahay. Waa maxay waxaas?
2nd question.
:siilaanyolaugh: this is too easy;
Shan/5 hadii lagu daro 6 waa laba iyo toban/toban iyo labo, todoba hadii lix/6 lagudarana waxey noqoneysaa hal. Sideey kudhacde? What's that thing?
Wax hadii ey kaa bataan aad wax arkeynin, hadii leyska yareeye waad arki?
Wax waligiisa sii kordhaye/kudarsamayo( it just adds) but doesn't decrease. What's that thing?
The easiest one:siilaanyosmile:
Wax Europe laga helayaa, America laga helayaa, Australia laga helayaa, lakinse laga helimaayo qaarada Asia? What is it?
Typing in Somali is another hustle

I hope both waqooyis and koonfurs do undestand the shit I wrote.