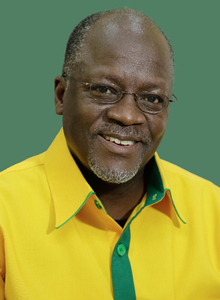 Stopping misuse & theft of public funds
DAR ES SALAAM (Reuters) - Tanzanian President John Magufuli has revealed he earns a salary of 9 million Tanzanian shillings ($4,000) per month, making him one of the lowest paid African leaders as he pursues a much-criticized policy of deep public spending cuts. "They can leave if they don't want it," he said. He said abuse of public funds was "rampant" at state firms and that he had rejected requests from some local officials to more than double their allowances, saying he could not do so while many citizens lack access to water, health care and electricity. Magufuli has not brought continuity, but dramatic change. He began to impress just days after his inauguration. He made a
snap unannounced visit
to the Ministry of Finance on his first day as president. Then he
pulled funds
intended for Independence Day celebrations and redirected them to anti-cholera operations. He began a
shake-up
of the Tanzania Port Authority, and extended it to the
Tanzania Revenue Authority
as he launched a tax collection drive. An audit of the public payroll led to a
purge of "ghost workers"
. Quickly, it became apparent that he was genuinely waging war on corruption in the Tanzanian state.
Five suspended senior executives of Tanzania's national oil company were on Friday charged with corruption offences over alleged irregularities in the award of a survey contract to a U.S. firm.
State-run Tanzania Petroleum Development Corporation's (TPDC) managing director James Mataragio and four other executives were charged with abuse of public office.
They awarded a $3.24 million airborne mining survey contract to U.S firm Bell Geospace without authorisation of the TPDC board, according to the charge sheet filed by prosecutors and handed out in court.
All five denied the charge at the hearing in Tanzania's commercial capital Dar es Salaam.
Mataragio worked for Bell Geospace in the U.S. as a geo-scientist for 10 years before being appointed TPDC's managing director in 2014.
He and his four colleagues were suspended in Aug 2016 after audit queries raised red flags over the award of the survey deal to the U.S. firm in a series of payments between 2014 and 2016.
Tanzanian President John Magufuli last year fired his mining and energy minister and split the ministry into two separate portfolios to help stem corruption – one of the main reasons investors cite for the high cost of doing business in Tanzania – boost efficiency and attract funding.
The country has estimated recoverable reserves of over 57 trillion cubic feet (tcf) of natural gas, most discovered off its southern coast.
Worked towards stopping resource theft
The third and most recent theme in Magufuli's presidency has been a
confrontation with multinational mining companies
.The controversy was kick-started this is the alleged discovery that Acacia Mining has been under-reporting of mineral exports earlier this year. Magufuli has argued that multinational mining companies have been
stealing Tanzania's resources
for years. Based on these claims, the government charged Acacia Mining with fines and back-dated taxes amounting to
USD190 billion
. Magufuli even threatened to nationalise the mines. His strategy of brinkmanship worked. On October 19th, Acacia's parent company Barrick Gold
announced that it had reached an agreement
with the Tanzanian government. It promised to find ways to further process copper-gold ores in Tanzania, instead of exporting them for smelting, and it made a number of pecuniary concessions.
Banned Shisha
Tanzania banned the smoking of shishas or water pipes over concerns that they were linked with drugs or alcohol abuse. Prime minister Kassim Majaliwa
reportedly said
shisha was killing future generations. Tanzania was arguably
the first African country
to impose the shisha ban. In March 2017, alcohol
sold in plastic sachets
were also banned.
Getting rid of illegal workers in Tanzania job market
The Regional Immigration Office in Tanzania's commercial capital Dar es Salaam has embarked on a crackdown on foreigners without residence or work permits.
The department will also take measures against officials who issue foreigners with fake documents.
Regional Immigration Officer (RIO) John Msumule, made the revelation Tuesday while briefing the Press on last week's operation which, among other things, seized and detained 25 Indian nationals.
The 25, working with Quality Group, were allegedly living and engaging in employment in Tanzania without permits.
Another detainee, a Uganda national named Aisha Talib, was caught with 15 passports belonging to Madagascar and Burundi nationals. Others seized in the crackdown were: six Taiwanese, two Indonesians and a Chinese from the Luck and Spin Company.
They were accused of being in Tanzania without residence or temporary business permits, while they had signed for permanent employment at the company.
Leave the country
Mr Msumule said two of those arrested and detained paid fines and seven had been given five days to leave the country.
He said their operation, which targeted companies, had discovered employers who recruited foreign nationals but failed to process for them the requisite documents to legalise their stay and employment in Tanzania.
The Immigration Office also uncovered a local security company, Alfa Romeo, employing a Malawian national illegally.
Unmask them
Mr Msumule said that at the Quality Centre Group, which runs over 20 separate companies, the Immigration Office identified 128 foreign nationals, 25 of who had neither working nor residence permits.
"Because of that, we have issued a warrant that the owner of the group, Mr Yusuf Manji, who we were told is currently hospitalised, to report in our offices the day he is released so that explains," he said.
The Dar es Salaam Immigration boss also revealed that they had discovered a number of crooked public servants who were involved in producing fake documents, noting that investigations were underway to unmask them.
"We want to ensure that every person in our region lives according to what the law says; we will continue with these operations until the city is clean," he added.
Bullying Kenyatta

About 47 foreign delegations including 23 heads of State or their deputies joined thousands of Kenyans to witness the swearing-in of President Uhuru Kenyatta for his second term in office.
Tanzanian President John Pombe Magufuli, however, skipped the event, despite earlier indications that he would attend. State House had earlier confirmed his attendance.
Instead, Tanzania sent vice president Samia Suluhu to represent President Magufuli at the ceremony.
East African Community presidents, Yoweri Museveni (Uganda) and Paul Kagame (Rwanda) led other eight heads of states and government in witnessing the swearing-in.
Others who attended the ceremony were South Sudan President Salva Kiir who was the first to arrive in Kenya on Sunday, Ethiopian Prime Minister Hailemariam Desalegn,
Mohammed Abdullahi "Farmajo" Mohamed (Somalia)

. Ismail Omar Gulleh (Djibouti), Ian Khama (Botswana), Ali Bongo Ondimba (Gabon), Hage Geingob (Namibia) and Edgar Lungu (Zambia).
Last edited: