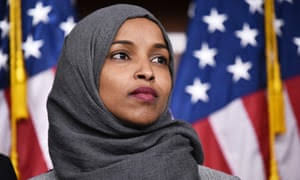 https://www.politico.com/story/2019/04/15/online-donors-ilhan-omar-1277273
Omar raised $832,000 in the first quarter, according to her FEC report — among the best totals posted by any House Democrat. Roughly half of her donations, $415,000, came from people who gave less than $200 to Omar, and the majority of her funds, $631,000, came from online donors who gave via ActBlue, the Democratic online fundraising platform that has been such a boon to the party's candidates in recent years that Republicans are scrambling to develop an alternative.
Omar received just $10,000 from political action committees, including two from other House Democrats: Fellow freshman Rep. Alexandria Ocasio-Cortez (N.Y.) gave Omar $2,000 on March 28, and House Majority Whip Jim Clyburn (S.C.) gave her $1,000 on March 29.
Her $832,000 haul puts her among House Democrats' top fundraisers in the first quarter, including prolific fundraisers like Rep. Josh Gottheimer (D-N.J.), who raised $830,000 for his reelection campaign inside the expensive New York media market. Freshman Rep. Josh Harder (D-Calif.), who represents a central California swing district, outraised Omar with a $873,000 haul.
Omar's campaign spent $241,000 and had $607,000 in cash on hand as of March 31.
In the last week, the Minnesota Democrat has been a direct target of rhetorical attacks by President Donald Trump and other Republicans which have prompted a number of death threats against her.
After all the hate my eedo is still winning

#istandilhan
#mustprotectilhanatallcost