And seek help in patience and prayers
Shabaab kills 'over 50' Amisom soldiers, say Western sources
2 1 Google +1 0

Wednesday, September 2, 2015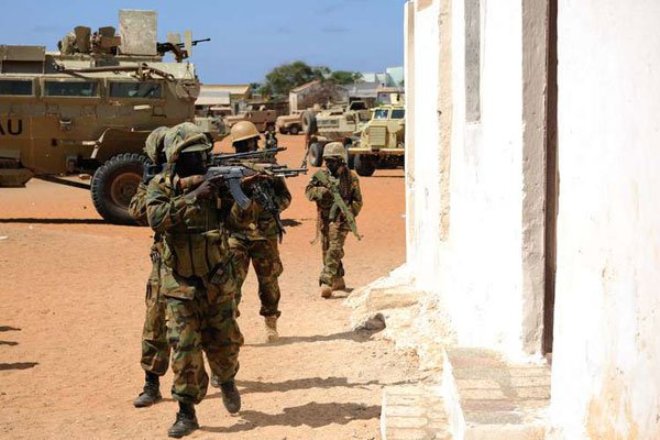 Ugandan Special Forces soldiers belonging to Amisom take part in an operation to clear a suspected building in the Lower Shabelle region of Somalia. At least 50 African Union soldiers are believed to have been killed after Al-Shabaab militants overran a military camp in Janale District in southern Somalia on September 1, 2015. PHOTO |OBIN JONES | AFP |AMISOM.
advertisements
At least 50 African Union soldiers are believed to have been killed and another 50 are missing after Al-Shabaab militants overran a military camp in southern Somalia on Tuesday, according to Western military officials.
"It is assessed that at least 50 Amison troops died," said a briefing note sent to diplomats by Western military officials and seen by AFP.
It said that in total around 100 soldiers were "unaccounted for" after the attack.
Somalia's Al-Qaeda affiliate said the attack in Janale District, 80 kilometres southwest of Mogadishu in the Lower Shabelle region, was revenge for the killing of seven civilians by Ugandan troops at a wedding in the town of Merka in July.
Amisom has said the camp was manned by soldiers from Uganda.
200 ATTACKERS
The number feared dead matches that claimed by an Al-Shabaab spokesman.
Amisom has not yet counted the dead.
"Given the complex nature of the attack, Amisom is currently verifying the number of casualties and extent of the damage," said a statement issued late Tuesday, more than 12 hours after the assault.
Western military sources said the attack began with the destruction of two bridges, cutting the camp off.
A suicide car bomber rammed the base followed by an estimated 200 Al-Shabaab fighters who overran the camp.
Amisom said its troops "undertook a tactical withdrawal" as the attack began.
LOADING CORPSES
Witnesses said Al-Shabaab took over the camp, looting weapons stores and loading corpses onto trucks.
The group has previously gathered the bodies of dead soldiers for use in propaganda videos of its attacks.
"They were collecting dead bodies, I saw nearly 30 soldiers killed during the fighting," said local resident Hussein Idris.
The militants are fighting to overthrow the internationally-backed government in Mogadishu, which is protected by 22,000 Amisom troops from Burundi, Djibouti, Ethiopia, Kenya and Uganda.
Tuesday's attack on the camp in Janale is one of the deadliest yet against Amisom troops.
A similar attack on a military outpost in Lego in June killed dozens.