I find some east asian men attractive, but only from afar. I feel sick of the thought of being intimate with a guy with east asian physical features. Before i became tolerant of them, i used to not look at a korean classmate during lunch because then i couldn't finish my lunch because of nausea. But now i can think one is goodlooking, but i can't be with one. Other than that,
i'm okay with every other race
.
So, am i a racist? I respect them as human beings tho...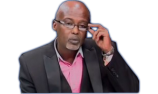 I think im racist to bantus aswell. Indians too...polish people too, russians too...okay nevermind.
I'm just racist in general