Reformation of Somaliland
VIP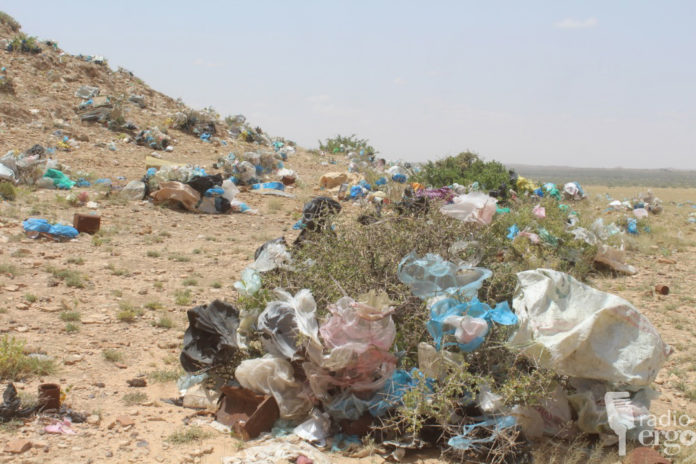 A village in northern Somaliland's Sool region has banned the use and sale of plastic bags, imposing penalties for offenders.
The local administration of Bo'ame village, around 70 km east of Lasanod, announced a ban on plastic bags on 5 March, according to assistant chief area, Ahmed Osman Karaf.
Karaf says the new law makes anybody found selling or using plastic bags liable to a fine of $100 or imprisonment of up to three months.
"We have already dealt with some locals who failed to abide by the law. Three people were arrested and fined for selling plastic bags in their shops. We will keep on implementing it," he said.
The village formed a 25-member executive committee drawn from the local authorities, clerics, elders, women and youth groups in order to sensitise the public on the negative effects of plastic bags on livestock and the environment. This went on for a year.
Mursal Abdi, Bo'ame youth group chairperson, says they have also been cleaning up discarded plastic bags for many weeks from dumpsites, streams and open areas.
"We have done a lot including clearing the used plastic bags from the village, and lobbying for the ban on plastic," Abdi told Radio Ergo.
The group along with the elders and the administration are confiscating stocks of plastic bags from shops and burning them.
Elder Abdirisak Ahmed Elmi, a member of the committee, said compensation has been given so far to 17 shopkeepers after they handed over cartons of plastic bags.
"We spent $2,200 to compensate those who agreed to hand over the bags in their shops. The money was contributed by the local administration and the people of the village," he stated.
Hamdi Mohamed Khalif, a plastic bag trader, received $40 after handing over one and half cartons of plastic bags.
"All the plastic bags have been collected and anyone found with them face fines or imprisonment so I stopped trading in plastic bags," said Hamdi. "I now sell bags made of cloth with handles," she said.
Abdirisak said the elders are leading spot checks in the area to ensure the plastic bags do not creep back into use.
"We lead the youth to help us burn all confiscated bags; we hunt for those who have the plastic in their shops. So far we have made progress in the implementation of this ban," the elder said.