"Show respect to all people, but grovel to none"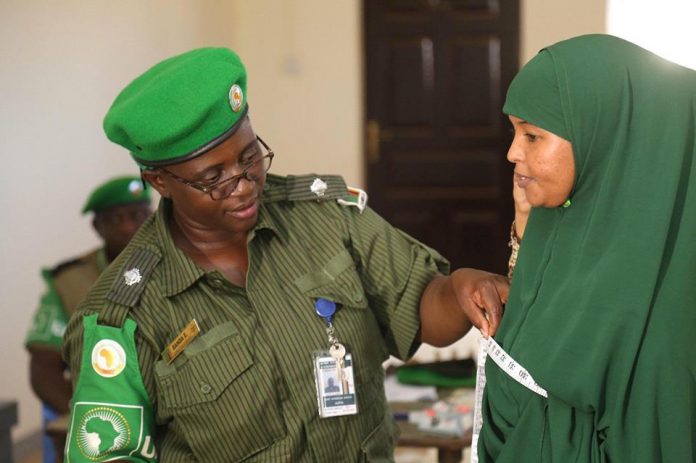 AMISOM ayaa ka jawaabtay Sawir Buuq badan ka abuuray Baraha bulshada kaasi oo muujinayay Qof ka tirsan AMISOM oo cabiraya Gabar loo diyaarinayay ka mid noqoshada Police-ka Hirshabeelle.
Sawirka ayaa ahaa gabar Soomaaliyeed oo kamid noqoneysay booliska ciidamada Hirshabeelle oo cabir xaga jirkeeda ah lagu sameynayay, waxaana Soomaalida aad ugu falanqeeyeen barta Facebook.
Taliska AMISOM ayaa sheegay in Gabadha Somaaliyeed waxa cabiraya inay tahay Gabar kale oo u dhalatay dalka Zimbabwe, balse dadka Soomaaliyeed ay u maleeyeen in qof rag ah uu yahay.
Qoraal ka soo dhigay barta Twetterka ee AMISOM ayaa lagu yiri " Fadlan ogaada sarkaalka Booliiska ee AMISOM ee cabirka ka qaaday gabdha la qorayo (la ciidamaynayo) ee sawirka ka muuqda waa sarkaal dumar ah oo ka tirsan kooxda Booliiska Zimbabwe ka socda, AMISOM waxay tixgalisaa, illaalisaana dhaqanka Soomaaliyeed, waligeedna uma xilsaarto sarkaal lab (Rag) ah inuu taabto haween Somaali ah".
Ciidanka Midowga Africa ee AMISOM ayaa tababaro siiya ciidanka Booliska iyo Maamul goboleedyada dalka qaarkood.
Arintaan ayaana qabsatay baraha Bulshada Saacadihii ugu dambeeyay, taasi oo keentay in ugu dambeyn AMISOM ay ka hadasho.