[Cali Saleebaan][Migiurtinia]
VIP
HalimoEnthusiast
Somalia's current leadership Isn't ready for elections . It's failed Government
by Abdiaziz Amalo
Saturday, May 23, 2020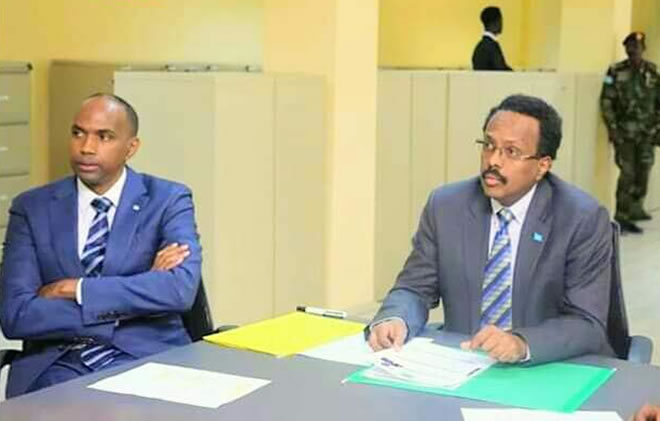 As Somalians gear up to choose their president on Feb. 7,2021 there is good reason to fear a return to dictatorship -style because incumbent Mohamed Abdulahi Farmaajo always acted outside the provisions of the constitution and that the action amounted to gross misconduct.
This is more than idle rhetoric.
Farmaajo , former prime minister who led a short-lived administration at President Sharif Government back in 2010, was elected president in 2017 by Somali parliament with Qatar money and the wrong believe of some members of the federal parliament who accepted his claims to be a "patriotic reformist."
However, his four years in office have highlighted the difference between accepting success and being a failure. In Somalia, like elsewhere in today's world, the biggest threat to democracy comes not from generals instigating coups but from authoritarians-at-heart winning elections, only to use their democratic mandate to rule anti-democratically.
In the past four years, however, Farmaajo's government has serially ignored the rule of law and harassed, arrested journalists activists, deployed security services to intimidate political opponents, and unforgivably sanctioned the killings of hundreds of unarmed civilians on multiple occasions with the impunity of a power-drunk dictatorship.
Yes, security services have been known to overreact even in advanced democracies, and civilians sometimes get hurt in the process. But what distinguishes governments committed to upholding fundamental human rights—such as the right to not be killed while demonstrating peacefully—are the post-incident actions they undertake to ensure such tragedies never repeat themselves. No such will, practices, and luck with the Farmaajo's government.
The international community is thus right to raise concerns about whether the upcoming election will be free and fair. Before February 8, 2021 Somalians will look forward celebrating the election of new president peacefully and democratically through parliament representatives to be elected in November 2020.
Taking into consideration Farmaajo's dismissive behavior towards democracy and his alliance with radical groups, the premeditated plan to rig the upcoming elections using the security forces and public resources under his control after dismantling all government checks and accountability bodies and rules through corruption and use of force could usher in an era of dangerously centralized power imperiling Somalia's modest democratic gains since the end of civil war in 1990s.
As of today, there are no credible efforts for election preparations indicating if there will be ever an election happening in Somalia in the near future. That will probably guarantee the inevitable happening of another popular uprising against illegitimate government as in 1990 which transitioned into civil war for power and security struggle in Somalia.
The international community has no time and excuse to prevent such imminent political and security disaster after 13 years of peacekeeping and state building intervention in Somalia. Urgent and clear decisions are expected soon before the Somali people rise against return of brutal dictatorship in Somalia with the support of international community.
Abdiaziz Amalo
Email:
azamalo2020@gmail.com
https://www.hiiraan.com/op4/2020/Ma...ium=rss_notification&utm_id=733685.8612200558