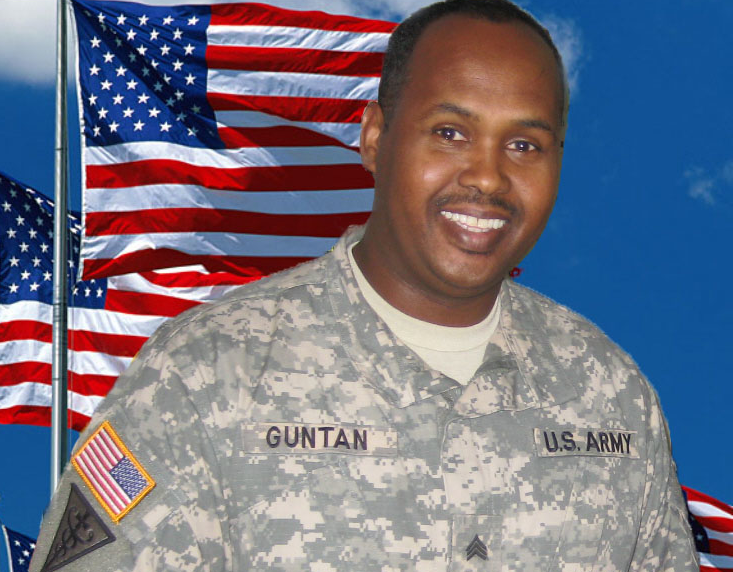 At first glance, Omar Guntan looks like your average Somali-American. Like many Somalis' living in Columbus, Guntan left his homeland before the start of the civil war in Somalia. But what most people don't know is that Gunton is an active member of the U.S. military.
"I've always been a curious person and I wanted to do something that was different and not normal," Guntan said. "I wanted something (that was) a little more riskier. I didn't want to do a nine-to-five job."
Once Guntan decided to enlist in the U.S. army, members of his family did not take the news very well. The reason being they feared Omar would lose his life while on duty.
"Most family rightfully would not want their son or daughter to be in a position where they can be killed or anything like that, God forbid," Guntan said. "My family didn't take it very lightly and I had some convincing to do and eventually everybody was pretty accepting."
The single father of three boys has been serving in the military for 14 years and he is currently a member of the military's Force Protection agency.
Guntan said as a Somali-American serving in the U.S. army he is familiar with the misconceptions held by members of the Somali community in regards to his profession.
"What I hear all the time is people think the U.S. army is Christian army and they go out there to fight Muslim or other religions, that's not the case," Guntan explained, "the U.S. army respects all religions that are recognized by the government."
Guntan continued to say he believes he has more rights as an army soldier than he does in his civilian job.
"On Friday when I'm in the army and I tell my commander I want to go for Friday prayer.. the commander is obligated by law to let me off and do my service and that's part of the army's regulations," Guntan said.
Guntan also said he has heard members of the community assume that he would be deployed to Iraq or Afghanistan to take part in combat operations simply because he was Muslim.
"Another thing I hear all the time is: 'you are Muslim and you will be shipped directly to a combat role so you could kill other Muslims,' you know that's not true."
Although Guntan is one of the many Somalis serving in the U.S. army, he did describe his experience in the U.S. army as being positive and extremely beneficial to his personal growth as well as helping him become a better member of his community.
"Most of the time I've learned skills and about my country..this sort of experience, of training soldiers and being a certified combat medic," Guntan said. "So the experience and knowledge I gained from the U.S. army is really invaluable."
Guntan said he has no plans of retiring in the near future but he does hope to eventually pursue a degree in petroleum engineering or chemistry at Ohio State University.
https://ayanasheikh.wordpress.com/2012/10/19/somali-american-proud-to-serve-the-u-s-army/