He went there once for research and saw how backwards the reer ikea people were , as usual reer Scandinavia letting down the Somali Community.

Go to 1:10 he immediately tells us how it is ,500 IQ Japanese Geeljire understood what was going on in less than a month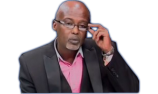 Even Beesha Yamamoto have given up on these people , the cadaans stop caring about these slums too. Can you korf and hushållsost consuming apes stop embrassing us for once?
Don't worry UK I've got your back I have all the dirt on these scandy people no more UK slander from these guys ever will occur

Norway your next behave yourselfs
Last edited: