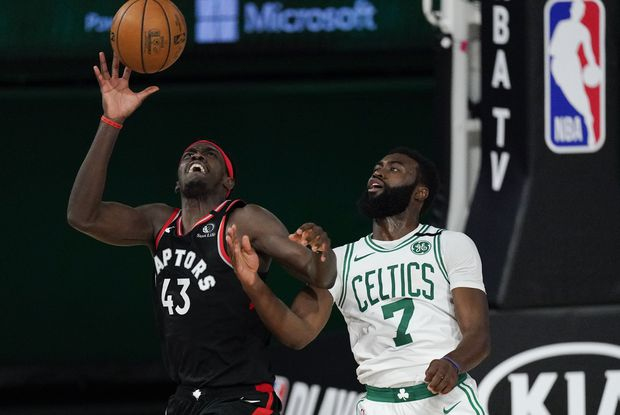 It is an unusual Labour Day Monday in Canada. In place of big end-of-summer parties, the Canadian National Exhibition or CFL rivalry games, this year there is a Game 5 between the Toronto Raptors and Boston Celtics – NBA teams that are locked in a captivating September playoff matchup.
Boston won the first pair of games, then Toronto stole the next two, completely transforming the vibe of the best-of-seven series.
Here are some questions to ponder about Game 5 in the Orlando bubble as the last summer weekend winds down.
WILL THE RAPTORS' KEY PLAYERS CONTINUE PLAYING SUCH HEAVY MINUTES?
Toronto coach Nick Nurse has relied almost exclusively on his top seven players in the past two games. In the first two outings, there were a few minutes for bench players such as Terence Davis and Chris Boucher, but in Games 3 and 4, Nurse called only on Matt Thomas outside his main seven. The Celtics, on the other hand, are using a nine-man rotation. Each Raptor starter is averaging more minutes a game than his Boston counterpart.
A few Raptors starters have played more than 40 of the game's 48 minutes in each of the past three outings, including Lowry, who played nearly 47 on Thursday and almost 44 on Saturday.
"You've got to play this somewhat situationally and I just think that those guys that we didn't sub much [Saturday] night, they were all playing very, very well," Nurse said. "I thought there was an appropriate amount of breaks in the game. There seemed to be a lot of timeouts, there was reviews, there was challenges, there seemed to be some kind of built-in rest time."
Here are some questions to ponder about Game 5 in the Orlando bubble as the last summer weekend winds down
www.theglobeandmail.com