#JusticeForShukriAbdi #FreeYSL
VIP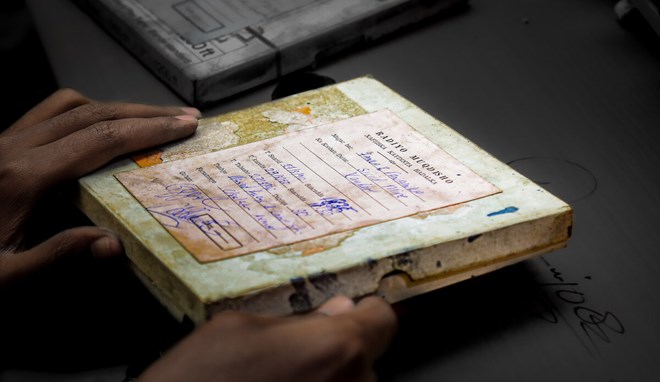 Mogadishu – Sitting in a small, windowless room in a government building in the Somali capital, Mohamed Yusuf Mohamed loops another audio tape onto the dilapidated machine and presses a few buttons.
After a few clicks, the antiquated device starts to whir and its wheels spin – one tape down, and another couple of hundred thousand or so to go.
In the adjoining room, there are shelves more than three metres in height which teeter under a layer of dust and thousands of audio reels.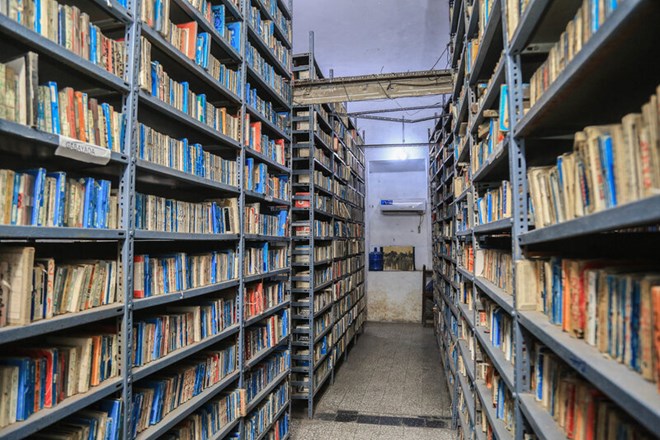 Given the decrepit equipment and limited staffing at hand, the project Mr. Mohamed and other colleagues are working on will take many decades to complete.
Their actions are part of a long-running effort to digitise some seven decades of unique historical recordings belonging to Radio Mogadishu.
"I arrive here at 8:00 a.m. and work until 4:00 p.m., digitising around 30 to 40 songs per day with very limited equipment," he says.
Mr. Mohamed feels some pressure.
At stake are the only remaining audio recordings of much of Somalia's history, with thousands of reels of music, poetry, religious texts, political speeches and drama shows stemming all the way back to the station's creation. Much of it is in a poor state.
Nonetheless, Mr. Mohamed is conscious of the importance of his work.
"I feel fortunate to have the opportunity to participate in improving the history of my country," he notes.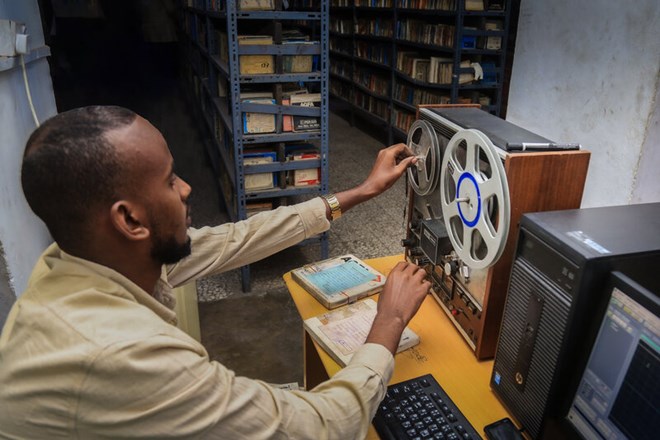 First broadcaster
Somalia gained independence on 1 July 1960, when the UN Trust territory of Somaliland – the former Italian Somaliland – and what was then British Somaliland united to form the Somali Republic.
Radio Mogadishu came into existence earlier. It was established in 1951, during the period when Somalia was held under the trusteeship of the United Nations and administered by its former colonial power, Italy.
It began broadcasting news in Italian, and Somali programming followed soon afterwards.
In the 1960s, Radio Mogadishu was modernised with assistance from the Soviet Union, and began broadcasting in Amharic and Oromo as well as Somali and Italian. In 1983, Radio Mogadishu's sister organisation, Somali National Television (SNTV), was established.
War breaks out
This growth and progress of the national broadcaster came to a halt in 1991. Radio Mogadishu closed soon after the start of Somalia's civil war, which followed the overthrow of then-President Siad Barre.
The station's premises fell into the hands of warring factions. In 1993, the archives sustained some damage during clashes between one of the factions and international peacekeepers deployed in the city at the time.
The violence that engulfed the country led to the destruction of much of Somalia's cultural heritage. Museums were stripped of their collections, with items destroyed or sold on the black market. SNTV's archives were destroyed, and the material in Radio Mogadishu's vaults was targeted.
As the civil war raged, there were various attempts to destroy or steal the vault's contents. Only the courageous efforts of certain individuals hampered those attempts.
One of those individuals was Abshir Hashi Ali, then serving as a police colonel. In 1996, amidst the violence, he decided that he would protect the archives for future generations of Somalis.
"This site stores the history and data of Somalis… The archive was neglected, and there were many militias in the area. However, there were always good people from the local authorities who helped me to save this precious treasure," Mr. Ali recalls.
"My aim was to protect this important heritage for the Somali people, wherever they are. My prior life as a police officer helped me to be resilient and to work for a long time in a place where I have no personal interest nor was I being paid a salary," he adds.
Following the re-opening of Radio Mogadishu in 2001, Mr. Ali was made the station's archives manager.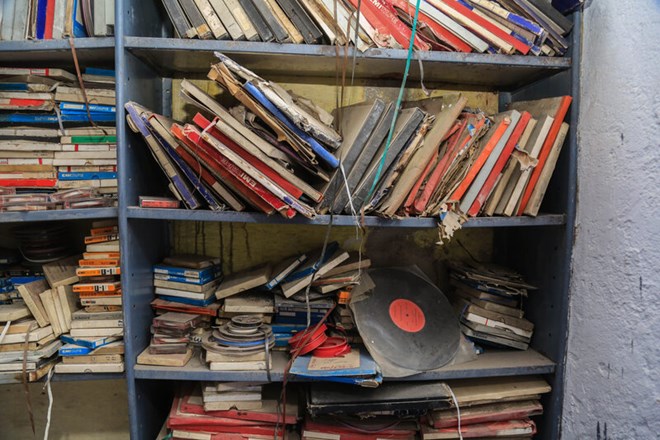 The majority of the 35,000 magnetic, reel-to-reel, tape recordings in the Radio Mogadishu archives – made up of Somali-language tapes, records and limited manuscripts – survived the war, although most of its foreign language collection was not so fortunate.
Following the re-opening in 2001, which occurred during the administration of Somalia's then-Transitional National Government, the station operated from its original, small compound in central Mogadishu.
Its dedicated staff broadcast a range of programmes – news, music and talk shows – despite the threats and reality of violent retaliation from the Al-Shabaab terrorist group, which regularly fired mortars to silence the station.