I have bought this beautiful macawis from Djibouti, a beautiful piece.
I'm definitely ready to talk clans, politics and eat some khat with
@AussieHustler
@R.Kelly
Adeero
@R.Kelly
, bring some old news to entertain us!
No hate, i'm promoting #Somaliexcellence and enough with this cushite thing, i'm not the brother of a pagan oromo!!
@geeljire madaxweyne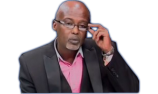 You're welcome, brother
@Geeljire sanbuur