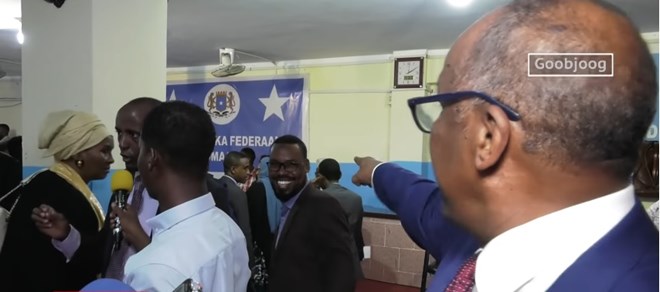 Mogadishu (HOL) - A Somali MP has promised to sue the country's education minister on Sunday over remarks linking the lawmaker to Al-Shabaab.
Speaking to reporters after the fracas in Parliament, The Minister of Education, Abdullahi Godah Barreh said the highly- anticipated parliamentary session focused on security was called off due to the influence of MPs who secretly support Al-Shabaab.
"Al-Shabaab wanted this chaos in parliament to happen. This was made possible by MPs who's thinking aligns with Al-Shabaab ideology," the Minister said.
"The people of Somalia have seen firsthand today that these (Al-Shabaab) agents have refused to discuss the current security situation openly."
The Minister went on to say that the MPs whom he alleges work for Al-Shabaab have sent a clear message to Parliament.
In the middle of his televised statement, Yusuf Hussein Ahmed, an MP representing Hirshabelle, walked into frame and said something inaudible to Godah who in turn replied: "He is one of them, here is one of the MPS who work for Al-Shabaab."