President - Sexaholics Anonymous, Ohio chapter
VIP
So apparently this Fah idiot has a mentally disturbed cousin of his here in my city.
I usually see him around ..
The reason I know that he is Fah's cousin was that kid told me that he was born in Maryland
I immediately put two and two together. I asked him if he knew Faisal that use to go to U of M. He immediately went into his phone and showed a pic of his on Twitter ..it was indeed Fah
Then after the unprovoked attack on me on somnet I ran into the mental cousin of Fah.
I chatted up with him till he gave me Fah's sister's number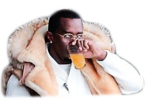 But I never exposed it on my blog ...
I couldn't take it to that level bro ..
But the badtard deserves extreme punishment for banning based only on some emotions