DIVORCE STATISTICS: OVER 115 STUDIES, FACTS AND RATES FOR 2018
U.S. DIVORCE RATE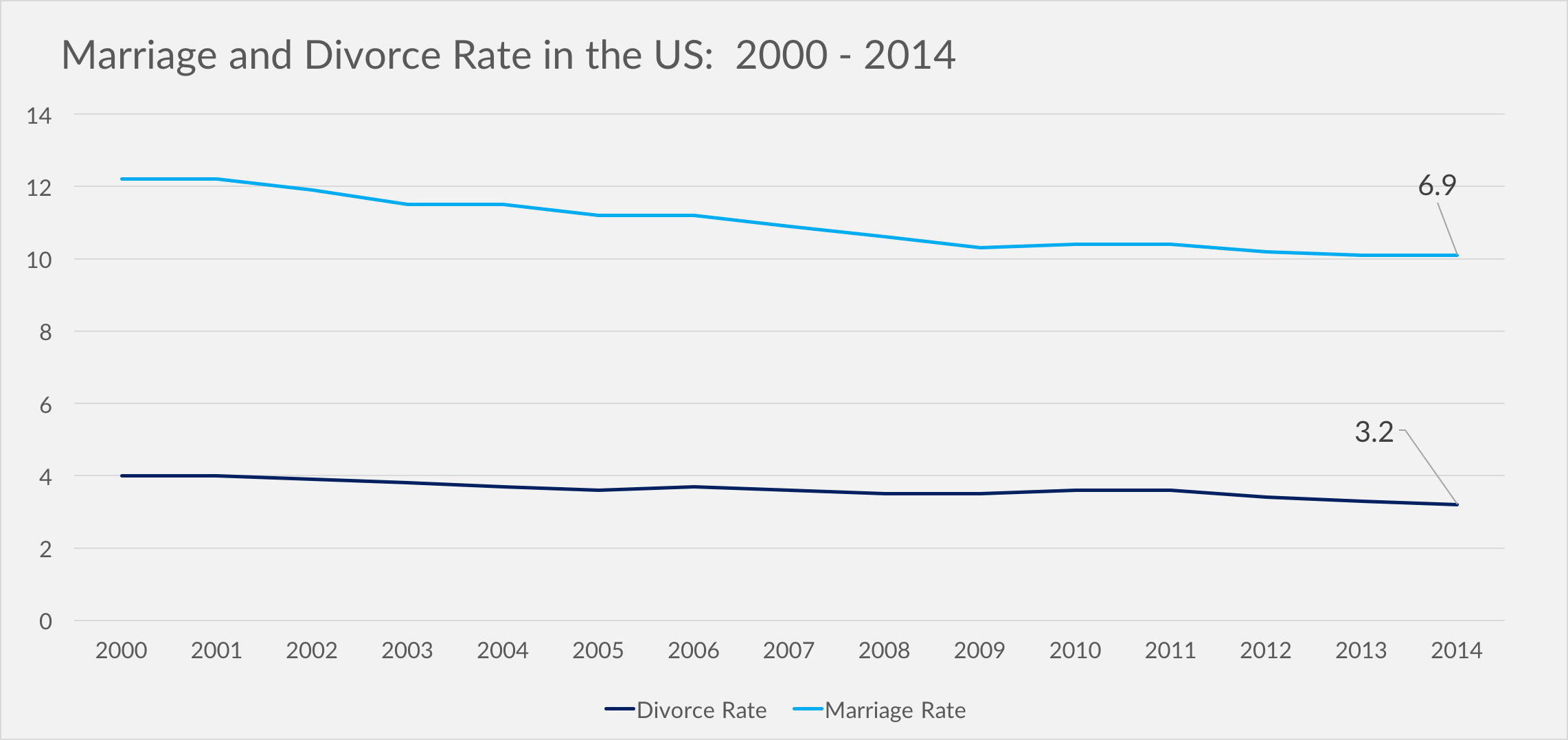 Countries With The Highest Divorce Rates In the World: Top 20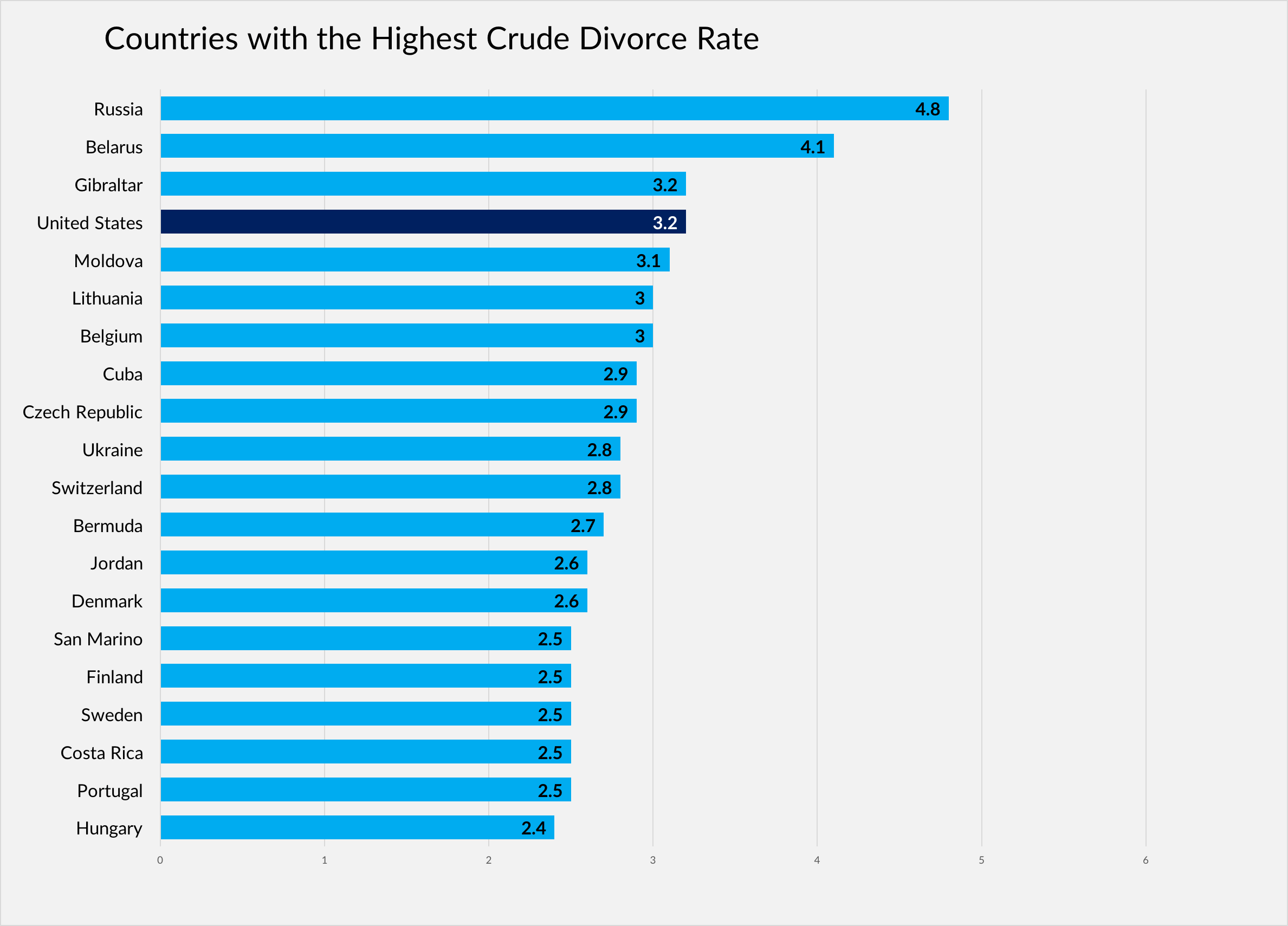 WHO IS GETTING DIVORCE, WHEN, AND WHY?
23. The average age for couples going through their first divorce is 30 years old.
24. 60 percent of all divorces involve individuals aged 25 to 39.
25. Wives are the ones who most often file for divorce at 66 percent on average. That figure has soared to nearly 75 percent in some years.
Among the population segments with the lowest likelihood of having been divorced subsequent to marriage are
Catholics (28 percent),
Evangelicals (26 percent),
Upscale adults (adults making more than $75000 annually) (22 percent)
Asians (20 percent)
Those who deem themselves to be conservative on social and
political matters (28%).
47. If a person has strong religious beliefs, the risk of divorce is 14 percent less and having no religious affiliation makes you 14 percent more likely to get divorced.
55. 60 percent of cohabiting couples will eventually marry. However, living together prior to marriage can increase the chance of getting divorced by as much as 40 percent.
56. If you are a female serial cohabiter – a woman who has lived with more than one partner before your first marriage – then you're 40 percent more likely to get divorced than women who have never done so.
59. Women who lost their virginity as a teenager are more than twice as likely to get divorced in the first 5 years of marriage than women who waited until age 18 or older.
60. A 2011 study at the University of Iowa found that for both men and women, the loss of virginity before age 18 was correlated with a greater number of occurrences of divorce within the first 10 years of marriage.
70. If your parents are happily married, your risk of divorce decreases by 14 percent.
71. If your parents married others after divorcing, you're 91 percent more likely to get divorced.
72. According to Nicholas Wolfinger in "Understanding the Divorce Cycle", the risk of divorce is 50 percent higher when one spouse comes from a divorced home and 200 percent higher when both partners
do.
89. Each liter of alcohol consumed raises the chance of divorce by 20%! Factor in that the average American drinks 9.4 liters of Alcohol per year, raising their divorce likely hood by 188%!
94. Forty-three percent of children in the United States are being raised without their fathers.
100. If a close friend gets divorced, you are 147% more likely to become divorced and 33% more likely if a friend of a friend is divorced.
101. Studies at the University of California and Brown University cite that when a married person works with someone who is in the process of divorcing, it increases the married person chances of divorce by 75%.
108. 60% of people under poverty guidelines are divorced women and children.
109. A new study entitled "Divorce and Death" shows that broken marriages can kill at the same rate as smoking cigarettes. Indications that the risk of dying is a full 23 percent higher among divorcées than married people.
110. One researcher determined that a single divorce costs state and federal governments about $30,000, based on such things as the higher use of food stamps and public housing as well as increased bankruptcies and juvenile delinquency
It's quite long, just posting some of the info you can read the rest

https://www.wf-lawyers.com/divorce-...nesM5XguDcsYpBOUfiT0MbDYBE04ppIT8VmGgtS_g1qOw