https://en.m.wikipedia.org/wiki/Isaaq_genocide
This article is purely one sided propaganda. Anybody getting information from here should know they're being grossly duped with fake historical facts about the Somali government and the various rebel groups in the 80s.
To begin with this below, the article States: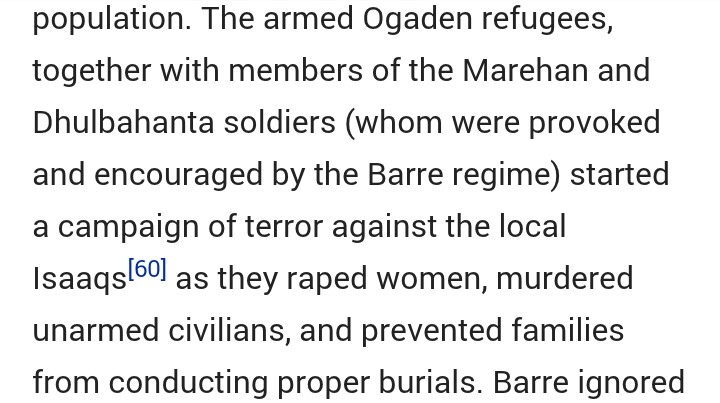 This is pure nonsense, the Somali army comprised all clans, only the inner circles of government and the regimes special force (red berets) had the above mentioned clans dominant. Most red berets weren't even deployed to deal with SNM, they mostly protected the capital and the regime in the South.
The article further States: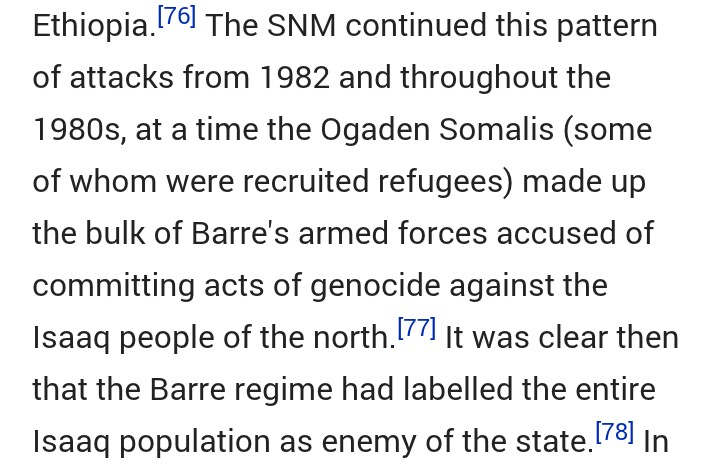 So by 1982, the above mentioned clan had made up the bulk of the army and began genociding northern Somalis. Another 100% lie, it was by late '87 that it became dominated with members of the above not 1982. 1986 is when the regime turned tribal based proper but according to this article ever since 1969, the government began segregating others. Ask anyone who was alive at the time and they'll prove me rright.
Articles like this is what makes some clans have cuqdad for others. Shame on Wikipedia.