He is still young and holds the record of Canada.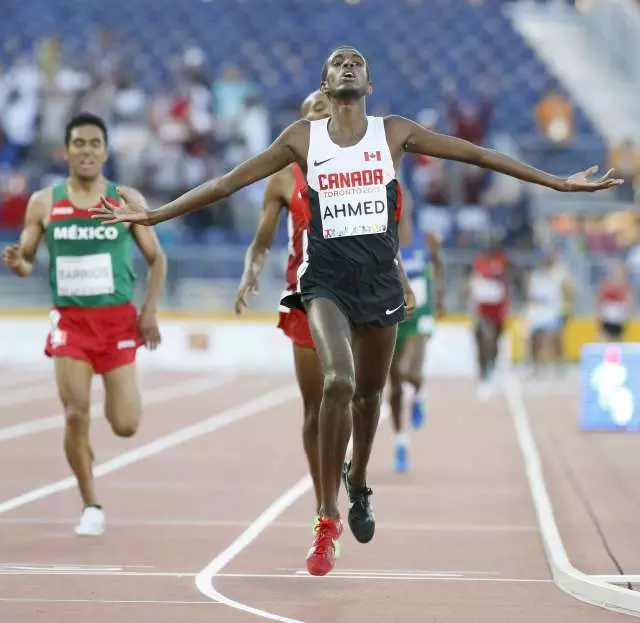 Mohammed Ahmed sets Canadian record in 10,000 metres at world track championships
Moments after the race, his slender legs still wobbly from the effort, the runner from St. Catharines, Ont., said he's thinking even bigger

Mohammed Ahmed of Canada reacts after the the men's 10,000 metres final during the IAAF World Athletics Championships at The London Stadium on Friday in London.Richard Heathcote / Getty Images

The Canadian Press
August 5, 2017
12:26 AM EDT
Filed under
Comment
Facebook
Email
More
By Lori Ewing
LONDON — A national record, and a Canadian best-ever eighth place finish — but Mohammed Ahmed wants more.
The 26-year-old from St. Catharines, Ont., laid down Canada's finest performance over 10,000 metres at the world championships on Friday night, crossing in a national record time of 27 minutes 2.35 seconds. But moments after the race, his slender legs still wobbly from the effort, Ahmed said he's thinking well beyond being Canada's best.
"Honestly one of the things that I'm really sick of is 'best Canadian finish,' 'best Canadian this,' I want to be the best in the world," Ahmed said. "That's essentially what I'm working towards. I dislike hearing those words, best Canadian finish. You want to be the best in the world."
Hometown favourite and Olympic champion Mo Farah raced to his third world title in 26:49.51, to the delight of 55,000 fans, whose roar reached ear-splitting levels when the Brit glanced over his shoulder to pull away with about 150 metres to go.
Day 1 of the worlds was supposed to be all about Andre De Grasse and his quest to topple Jamaican great Usain Bolt from his throne, but the Canadian sprint star was forced to shut down his season after straining his hamstring in training Monday.
So Ahmed played the starring role for Canada, a year after he finished dead last in the Rio Olympic 10,000.
"I'm the Canadian 10K junior record-holder, I've always thought of myself as a 10Ker, and last year was a big motivation to come back this year, and kind of take revenge a little bit," said Ahmed, who topped Cam Levins' record of 27:07.51 set in 2015. "I wanted to ball, I wanted to have fun, I wanted to fight. I did that, it just wasn't enough."
Ahmed rebounded in Rio to finish — a Canadian-best — fourth in the 5,000, and said his ability to stick with the best in the world filled him with confidence. It showed Friday night at London Stadium, as the Somali-born runner stayed with the lead group — as high up as third spot — for all but Lap 25 of the 25 laps.
Records are rare in championship races because they're more tactical than fast. Friday's race ignored that tendency, and Ahmed was stunned after running a 28-second personal best.
"If you were to tell me I'd finish eighth in 27:02, I would've said 'You're crazy man,' " Ahmed said. "Those guys are incredible."
The final few laps were a crazy blur of surges and lead changes, with runners hitting the accelerator to sprint to the front. There were elbows thrown, shoves in the back, and clipped heels, and Farah nearly went down with 300 metres to go en route to winning his 10th consecutive global distance title.
"Every bump that I took I was like 'Alright this is part of it, just gotta take it, and keep rolling with it,' " Ahmed said. "The last four or five laps, the surging of the race really got to my legs and I was in a bad place with like six laps to go.
"I was telling myself 'Fight, compete, fight, compete.' Every lap. I did that, I hung on, I just didn't have quite enough over the last lap. That last lap was absolutely brutal.
"I'm collapsing as you can see. My form was falling apart, I was just 'Get to the line, get to the line.' "
Ahmed, who said he's the lightest he's been in a long time at "a strong 119 pounds," bent at the waist while speaking to reporters, hanging one arm over a barrier to prop himself up. He planned to head straight to the Canadian physiotherapy staff, to get ready for the 5,000 metres on Aug. 12.
"I'm in a bad place right now, my legs are really tired. Cut up, a lot of blisters I'm sure underneath these spikes," Ahmed said.
In the absence of De Grasse, Canada will have no one in the 100-metre final as Canadians Gavin Smellie and Brendon Rodney were both eliminated in the heats.
Smellie, from Brampton, Ont., was fifth in his heat in 10.29, while Toronto's Rodney was sixth in his heat in 10.36.
On the heels of his thrilling three-medal performance at the Rio Olympics, De Grasse had been intent on giving Bolt a run for his money in the Jamaican superstar's final individual race. Instead, De Grasse, and Canadian track and field fans, are left to wonder what if?
Bolt cruised to an easy 10.07 to win his heat. Jamaican Julian Forte ran 9.99 for the fastest time of the night.
"It was brilliant," Bolt said of the London Stadium crowd. "They come out in their numbers."
The stadium announcer mentioned De Grasse several times, including right before what would have been his heat, saying "Andre De Grasse would have been in Lane 9, but sadly withdrew from injury in the last 36 hours."
Elsewhere, Gabriela Stafford, a 21-year-old from Toronto, ran a personal best 4:04.55 to finish seventh in her heat of the 1,500 and advance to the semis. Nicole Sifuentes of Winnipeg (4:05.24) was eighth in her heat and also advanced.
Ethiopia's Genzebe Dibaba had the fastest time of the night of 4:02.67, while South African Caster Semenya was second (4:02.84). Semenya will be the favourite for gold in the 800 metres.
Canadians Alysha Newman and Anicka Newell also booked their spots in the women's pole vault final. Newman, from London, Ont., cleared 4.55 metres, while Toronto's Newell was good over 4.50. Ekaterini Stefandi had the best jump of the night of 4.60.
BIOGRAPHY:
Distance runner Mohammed Ahmed posted a best ever Canadian result at Rio 2016 when he finished an impressive fourth in the 5000m. He had initially finished in fifth place before being disqualified for stepping on the inner line of the track. Ahmed was then reinstated by the Jury of Appeal. Earlier in the Games he had finished 32nd in the 10,000m, four years after making his Olympic debut at London 2012 where he finished 18th in the 10,000m. He had a breakthrough performance the following year when he finished ninth at the 2013 IAAF World Championships in Moscow. It was best-ever finish by a Canadian in the 10,000m at the world championships. After finishing second in the 5000m at the 2015 Canadian Championships, Ahmed won 10,000m gold at the Pan Am Games in Toronto. He was also the top Canadian in the 5000m at the 2015 IAAF World Championships, placing 12th. In September 2015 he broke the 17-year-old Canadian record in the 5000m, running 13:10.00 at a Diamond League meet in Brussels. Ahmed smashed his own mark by more than eight seconds in May 2016, running 13:01.74 at the Prefontaine classic in Eugene, Oregon. It was his second national record of 2016, having broken the nine-year-old indoor mark in the 3000m in February. As a junior, Ahmed won the 5000m at the 2009 Pan American Junior Championships and finished fourth in the 10,000m at the 2010 IAAF World Junior Championships in Moncton. He also owns the Canadian junior 10,000m record. He ran a personal best 27:34.64 in the 10,000m in April 2012. During his time at the University of Wisconsin-Madison, Ahmed was a seven-time All-American and was the 2014 Big Ten Outdoor Track Athlete of the Year after finishing third in the 10,000m at the NCAA Championships.
Getting to know…
Family: Father Said Yusuf and mother Halimo Farah… Younger brothers Ibrahim, Kadar, and Hamza… Ibrahim runs track at Southern Utah University and competed at the 2012 World Junior Championships… Moved to Canada at age 11… Getting into the Sport: Started running track at age 13 after seeing his brothers running track at school… Has wanted to compete for Team Canada since watching Athens 2004… Outside Interests: Graduated from the University of Wisconsin-Madison in 2014 where he studied political science… Odds and Ends: Favourite motto: "Feel the Pain"… Listens to relaxing music or poetry before competing… Role model is three-time Olympic gold medallist Kenenisa Bekele… Nickname: Mospeed…