According to deputy PM Mahdi Guled, a delegation led by the nobel peace prize chasing fraud Abiy accompanied by Farmajo were on course to Hargeysa for breakthrough talks with Somaliland but the Jeegaan denied them landing.
Also, to no one's surprise, Handaraab and Cheese have been in contact with one another since March of last year. If that's the case Bixi must have been aware of Waraabe's scheduled meeting with Farmajo beforehand, what was that fake outrage coming from Bixi following the news reporting the culmination of talks which produced this infamous picture following their closed door meeting
What are your thoughts on this explosive revelation
@Bohol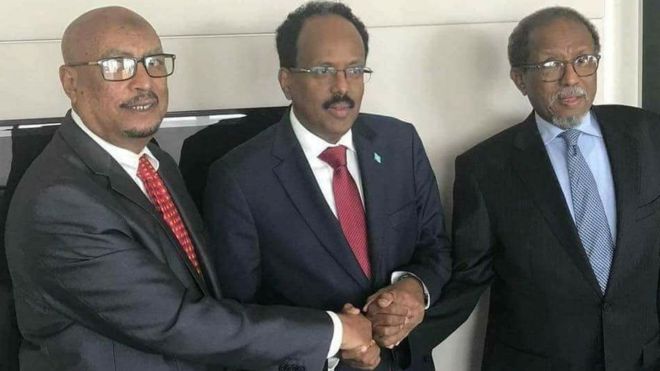 Ra'iisul wasaare ku xigeenka dowladda Federaalka Soomaaliya Mahdi Maxamed Guuleed ayaa sheegay in 'Soomaaliland ay khasaarisay fursad dahabi ah'.
https://www.bbc.com/somali/war-48169464
Intii ay jirtay dowladda federaalka ee uu madaxweynaha ka yahay Maxamed Cabdullaahi Farmaajo, waxaa hakad ku jiray wadahadalladii siyaasadeed ee u dhaxeeyay dowladda Federaalka Soomaaliya iyo jamhuuriyadda iskeed madaxbannaanida ugu dhawaaqday ee Soomaliland.
Mahdi Maxamed Guuleed oo ah ra'iisul wasaare ku xigeenka Soomaaliya oo wareysi gaar ah siiyay warbaahinta GoobJoog ayaa faahfaahin ka bixiyay halka uu ku dambeeyo wadahadalka labada dhinac iyo waxa dhankooda u qabsoomay.
"Wadahadalka Somaliland iyo dowladda Soomaaliya wuxuu ka mid yahay qodobbada ugu waaweyn ee ahmiyadda u leh guud ahaan qaranka Soomaaliyeed, gaar ahaanna wuxuu waajib ka saaran yahay aniga iyo mas'uuliyiinta kale ee kasoo jeeda Soomaaliland, wuxuuna joogitaankeennu macno ku fadhiyaa marka ay wadahadalladaas miro dhal noqdaan".

Image captionMahdi Maxamed Guuleed
Ra'iisul wasaare ku xigeenka ayaa dhanka kale sheegay in madaxweynaha Soomaaliya Maxamed Cabdullaahi Farmaajoyo iyo madaxweynaha Soomaaliland Muuse Biixi Cabdi ay xiriir toos ah lahaayeen.
"Markii madaxweyne Farmaajo la doortay kadib waxaa jirtay doorasho ay ku mashquulsaneyd Soomaaliland. Annagu aragtideenna waxay ahayd in saddexda xisbi ee Kulmiye, Ucid iyo Waddani kii la doortaba in aannu la shaqeyno lana sii amba qaadno wadahadalladii horay u socday, mid aannu gaar u taageersaneyn ama aan niyadda ka rabnayna ma jiro, markii dambena waxaa toos u wada xiriiri jiray madaxweyne Farmaajo iyo madaxweyne Biixi, xiriirkooduna wuxuu wanaagsanaa ilaa laga soo billaabo bishii Maarso ee sannadkii 2018-kii", ayuu yidhi Mahdi.