I featured Ahmed in an earlier post on my thread "Somali Success Stories" as a Rhodes scholar, he was accepted for scholarship to study at Oxford. Now, he added a new accolade. Well done Ahmed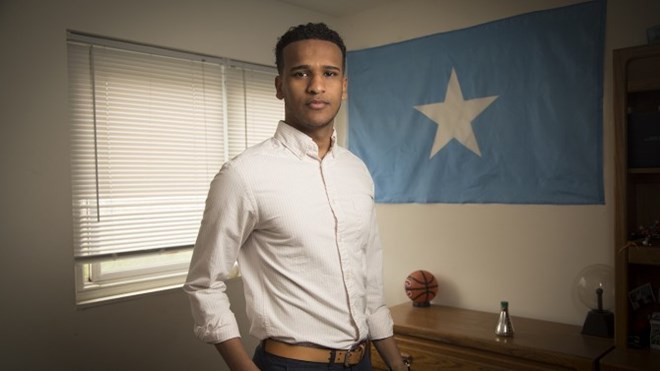 ​
Ahmed Ahmed whose remarkable journey led him from a Kenyan refugee camp to Cornell, has been awarded a
Paul and Daisy Soros Fellowship for New Americans
, which will support his medical school studies.
Ahmed, a Rhodes scholar currently pursuing a master's degree at the Blavatnik School of Government at the University of Oxford, was among 30 immigrants or children of immigrants selected from more than 1,700 applicants for their potential to make significant contributions to the United States.
"This award is a reflection of the heightened sacrifice, investment and guidance those around me have continuously offered, not for recognition, but simply due to kindness," Ahmed said. "I recognize I could never pay their efforts back, but instead must pay it forward."
Ahmed was born in a refugee camp after his parents fled the violence in their native Somalia in 1994. The following year, they were granted asylum to the United States, where they settled in a crime-ridden neighborhood in Maryland and his parents each worked two jobs to support their family.
At Cornell, Ahmed initially struggled, but flourished after seeking help from his teachers and learning how to study efficiently. His accolades include the Class of 2017 Outstanding Student Award in 2015 and the 2017 SUNY Chancellor's Award for Student Excellence. In 2016 he was selected for a Rhodes Scholarship.
Before he begins medical school in the fall at either Harvard Medical School or the Perelman School of Medicine at the University of Pennsylvania, Ahmed will work on New York City Mayor Bill de Blasio's NYC Care program, which aims to provide health care coverage to all New Yorkers. Ultimately, he hopes to help shape public health policy.
"I want to help undo artificial problems, such as people living without health insurance, or citizens living in food deserts, that we, as a country, have created," he said.
Soros fellows receive $90,000 for graduate school. Past fellows include former U.S. Surgeon General Vivek Murthy, Washington state Lt. Gov. Cyrus Habib and composer Paola Prestini.
"It's thrilling to see what these brilliant young minds from around the country are working on," said Craig Harwood, director of the fellowship program. "Paul and Daisy Soros fellows are all passionate about giving back to the country and remind us of the very best version of America."
Ahmed said his time at Cornell prepared and inspired him for what lies ahead.
"Cornell was founded on a bold vision of inclusivity at a time when the scope of the U.S. was explicitly discriminatory," he said. "The founding principle still resonates with me as a graduate. Our country has more to do to make our institutions inclusive for 'any person' – and I remain guided by that cause."
https://news.cornell.edu/stories/2019/04/ahmed-ahmed-17-wins-soros-fellowship-new-americans