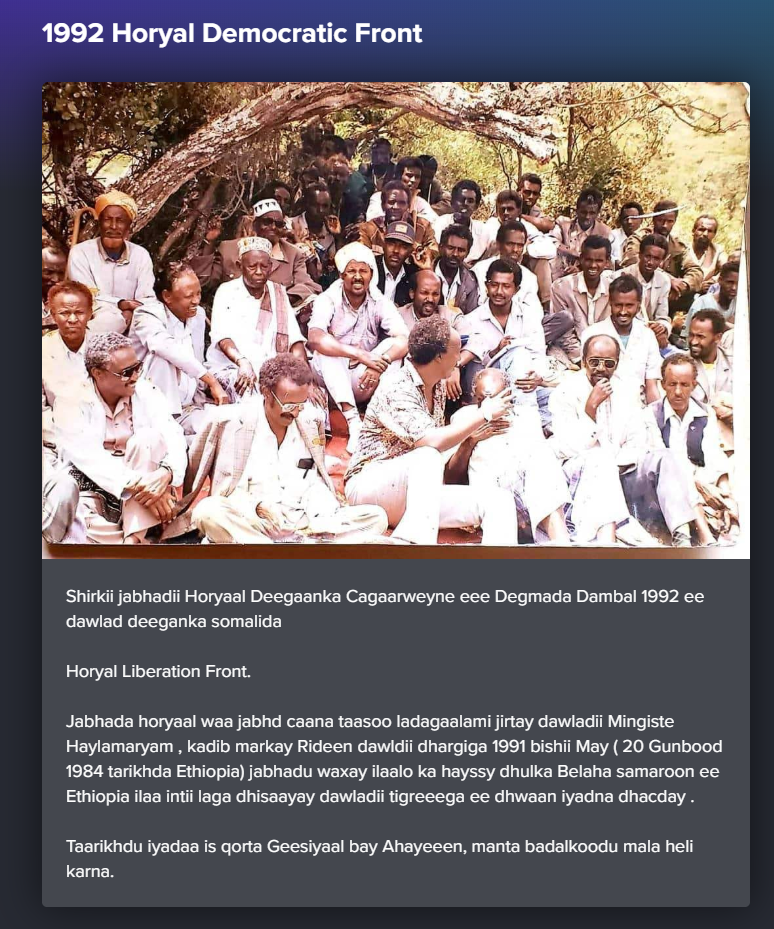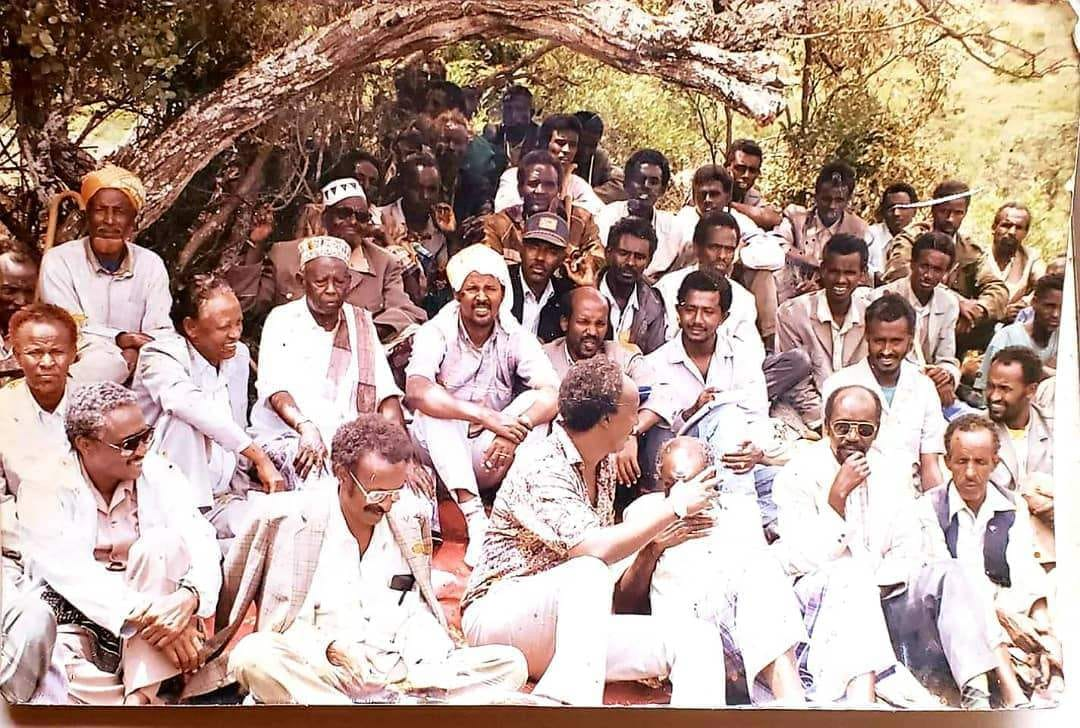 Shirkii jabhadii Horyaal Deegaanka Cagaarweyne eee Degmada Dambal 1992 ee dawlad deeganka somalida Horyal Liberation Front. Jabhada horyaal waa jabhd caana taasoo ladagaalami jirtay dawladii Mingiste Haylamaryam , kadib markay Rideen dawldii dhargiga 1991 bishii May ( 20 Gunbood 1984 tarikhda Ethiopia) jabhadu waxay ilaalo ka hayssy dhulka Belaha samaroon ee Ethiopia ilaa intii laga dhisaayay dawladii tigreeega ee dhwaan iyadna dhacday . Taarikhdu iyadaa is qorta Geesiyaal bay Ahayeeen, manta badalkoodu mala heli karna.
Horyal was Gadabursi organization based in Ethiopia fighting Mengistu. While the other organization defending Somalia, SDA was based inside Somalia.
Horyaal Democratic Front
The
Horyaal Democratic Front
or
Horyaal
was a
Gadabuursi
paramilitary organization that was active in the
Somali Region
of
Ethiopia
.vThe meaning of Horyaal is
liberator
in Somali.
It was founded and consisted mainly of the
Gadabuursi
clan family. It was created initially to hold back Ethiopia and harass the opposition fronts.
It was a separatist rebel group fighting in eastern
Ethiopia
to create an independent state. It played a major role in the
Western Somali
of 1977-78 assisting the invading
Somali Army
. Since the end of the
Ethiopian
Civil War, the Horyaal Democratic Front was almost totally incorporated into the Western Somali Democratic Front. The area of influence straddles the Somaliland border and incorporated the
Dire Dawa
,
Jijiga
,
Jinacsani
, Tuliguled,
Harar
,
Ejersa Goro
and the Awbar zones. The Center of this rebel was the mountains between
Jinacsani
and
Dire Dawa
.