HRH Duchess of Puntland, The Viscount of Garoowe
VIP
As I said right in that post, I've just logged on and have no idea what has been going in the last 10+ hours, mate. What am I, the gatekeeper of AJ and/or Somalispot?

Also, you like to pick and choose words that fit in your own agenda while overlooking the fact that I already said (and I will repeat) that I am '

live and let live

' person. Also, right in that last quote of my post I have clearly stated "he was forced to say

offensive

stuff in self-defense (yes, it was due to self-defense) that got him banned straight away".

Buraanbur, the queen of word-play.
Your name is Somalispotter, I assumed you were an admin.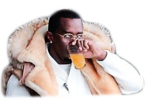 My opposition is to the word FORCED. No one held a gun against his head and by you saying he was forced to say offensive things, you provide an excuse for said actions. There is no excuse. It was wrong, period.