So a relative invited us to come visit his farms which were on the river around 20km north east of afgooye almost the midpoint between afgooye and balcad. Trip was interesting, made a lot of discoveries I reckon should be discussed.
We left early in the morning so the road was relatively quiet so we got to skip a few solider stops. From just between Xamar and afgooye there were 3 main checkpoints; First one for once you exist banaadir and enter S.hoose just before ceelasha, second (and most annoying) one at lafoole, a town halfway between ceelasha and afgooye and the last at afgooye pretty much at the exit. Each time we moved past a checkpoint we had to make a case to not pay bribe money, alhamdullilah the guy driving us knew the roads and the soldiers so we got through government territory smoothly. Unfortunately, government territory wasn't the only territory we had to cover.
So once we entered afgooye we kept heading north and crossed the river and after a quick stop we switched off the Mogadishu-Baydhabo road onto a side road and exited afgooye through it's north ( called afgooye wacdaan ) following the river north east. There were soldiers at the exit but they didn't bother us and we headed straight for about 5km into farmland until we were stopped by Alshabab. Apparently dude forgot to tell us we had to pass an Al-Shabab checkpoint to get to his house. What we stumbled across was the alshabab checkpoint at jambaluul a village north of afgooye. There was an alshabab flag on the side of the road and 3 or 4 odays standing on the road.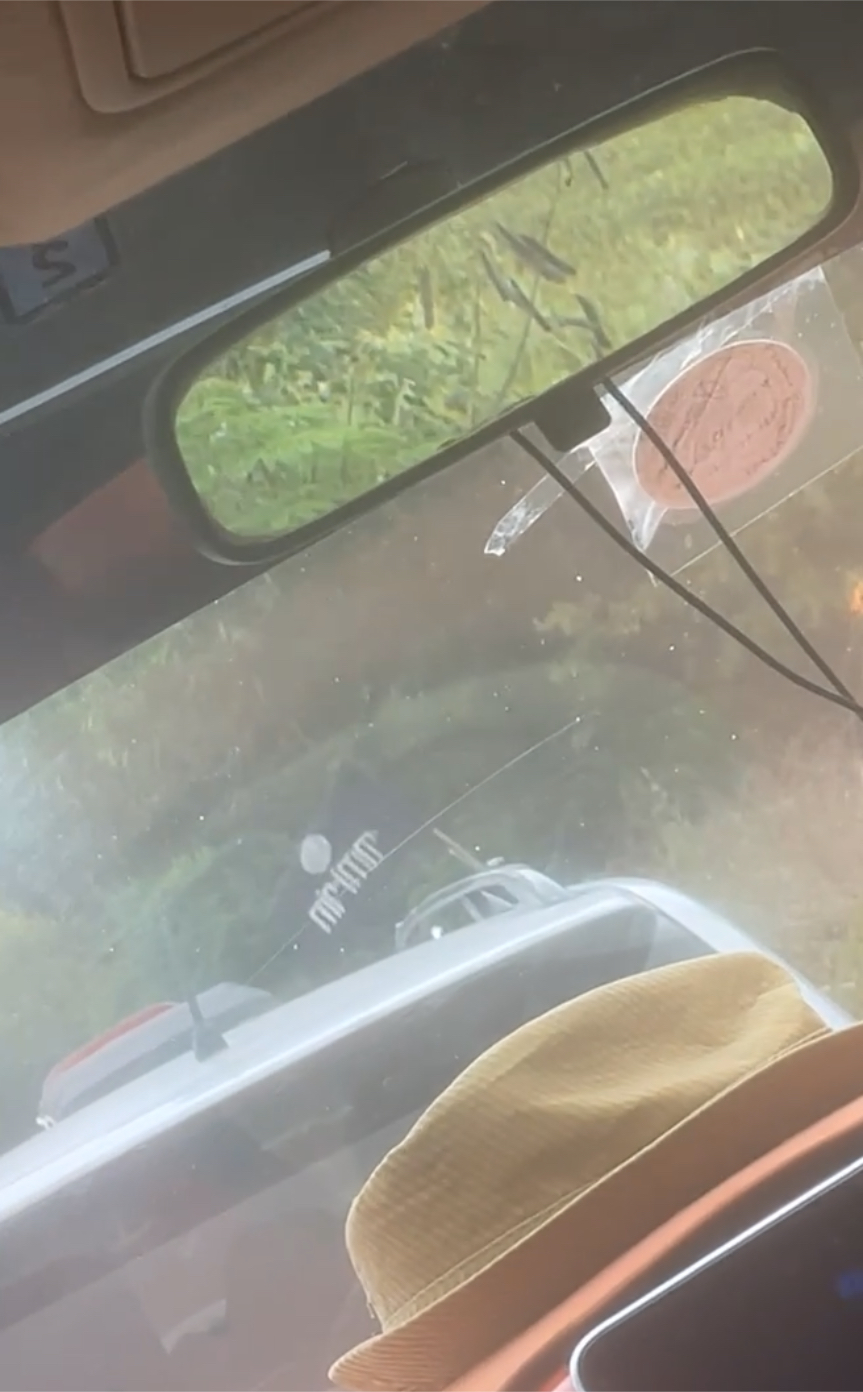 They called themselves "maxkamada" and made the driver get out the car and follow them to a place under a tree but he knows them since he routinely drives within their territory all the way to jilib so he told them we were visiting hebel hebels farm near so and so town. Within a minute they confirmed where we were going and let him go after the driver showed them a literal alshabab permission slip with his name, number, car details etc all on it and alshababs print on the front of the paper. They let us go without asking for any money (unlike the ciidan) and when we drove off I looked to the left to see what was under the tree they took the driver into. It was a gathering of shabab members complete with the face coverings, AKs chilling on the floor and child soldiers. After we left the checkpoint we headed a few kms straight through hundreds of bright green farms growing everything you can think of and pastoralists herding their cows and goats through the dirt. The farmers working the fields all had houses on the farms they were working and didn't really come together into towns like the pastoralists did. After a while we arrived at the dudes house which was a house with an open field and farmland on all sides. There were tractors and farmers waltzing around on his farm while he was chilling in his garden sipping shah with fresh caano geel. He was living the dream tbh. We ventured into the farms after a while. He was growing mostly maize and digir on this side with a few random other things. The soil was healthy and what wasn't crops was rich meadows of grass and purple/red flowers, a nice break from the yellow sands of xamar.
After we had some fresh coconut and tangerines, the guy took us to go see his generator which pulls in water from the river. The river was wider than I expected and only about half full but not empty like twitter had me believe. There was plenty of water to go around and there were these massive loud generators on both sides that pulled in river water into these straight columns that emptied out into the farms behind us. On both sides of the river for miles there wasn't a town in sight, just farms and livestock. After a while we headed into another side of his farm where he grows bananas. There were rows of banana trees and it looked like a maze on the inside. Couldn't find any ripe ones though, they were all still solid and green. There were also these pink fruits growing that looked like eggplants but bigger and more alien looking.
We got back in the car and headed to some food organising factory looking place which was worked by somalis and Yemenis. Apparently the farmlands to the right where owned by a group of Arabs who had a mini army of Bantus carrying their produce into and out of the factory. We also entered another farm which was owned by another abgaal dude where he was growing digir.
We then headed west away from the river to see the rural areas away from the river. We came into the pastoralists towns where we could finally see people that looked like us again. They kept their livestock on one side right next to their farmland on the other side. They grew Sorghum here which apparently is rain fed unlike digir and maize which grew on the rivers water. The pastoralists side had a different kind of dirt, less green and darker. Their settlements were also larger and more compact, with villages here and there whereas the farmers lived on the farms they worked.
We then went back to the guys house where all the local farm owners came together. Each time another one came he brought 3 or 4 Bantus with him carrying food whilst another Bantu worker fetched him a seat. Stuff looked straight out of a slavery movie. The yemenis made an appearance as well and sat down next to us speaking fluent Somali while looking like pure Arabs. After we all ate and prayed we made an exit before it got dark. The owner came back with us to the checkpoint so shabab don't bother us again. This time when we approached the Shabab checkpoint they put up more of a fight but there was some sort of respect between them and the owner. There was more of them this time, a good 10 and their masks were off so we could see their faces. Eventually they let us go and we headed straight towards afgooye. At the entrance of afgooye there were another group of shaba members under a tree and just down the road there were ciidan sitting at a checkpoint. Both were in the others range of sight yet neither side initiated any sort of conflict. The solders were just watching as al shabab were walking up and down the road. After that we were out of al shabab controlled land and the rest of the drive was pretty smooth. The road between Afgooye and Xamar was packed to the brim with new buildings and houses especially between ceelasha and Mogadishu.
Btw there were a lot of pics to go with all this. I'll try attaching them tomorrow inshallah