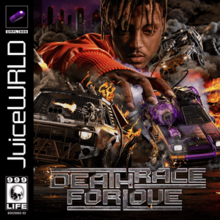 ....now before you clown me, hear me out. When I first listened to this, I was like damn this shit kind of ass.
several listens later I'm telling you this was hands down the best hip hop/rock album of 2019 (Polo G's
Die a Legend
is a very close second)
REVIEW TIME
We start the album off with track 1- Empty.
This song perfectly encompasses how every 13 year old feels when there crush says they just want to be friends. A pop-rock anthem that sounds like a cry for help today. 10/10
track 2- maze. Very catchy song, surprised it did not chart higher than it did. Kind of repetitive though 6/10
Track 3- Hemotions fan of the intro and production, the fact that he freestyled this whole album is either impressive or annoying depending on how you like it so far. 7/10
Track 4 Demonz with Brent Faiyaz- how album is kind of meshing together under one narrative. This dude is a pretty good singer! Made it to the playlist 10/10
track 5 Fast- hands down the catchiest song, honestly expected this to chart the highest 9/10
track 6- hear me calling
This song kind of fucks up the story he's been building but the beats nice 4/10
track 6 big
One big freestyle with some quotable - "I took a piss on yo dead homies grave" hehehe 8/10
track 7 robbery- not feeling this song then and not now, but I can see why it was a single 7/10
track 8 flaws and sins- I liked this one a lot, made it to the playlist
Quotables: "tell me darkest secrets shit you wouldn't even tell Jesus" (blasphemy)
10/10
track 9 feelings- light and bouncy song, I can see this being a club banger 9/10
track 10 syphilis- some shit you can ride on the opps with 10/10
track 11 who shot cupid- this was always ass I can't even cap to y'all 3/10
Track 12 ring ring - good but not great 6/10
track 13 desire- a lower tempo druggie love song , my type of music 10/10
track 14 out my way- pretty obvious was a freestyle, I thought it was 10 when it first came out but eh it's like 7.5/10 now
Track 15 the bees knees- if I had to tell you to listen to one song this is it. With a beat change transforming this song from a braggadocio drug fueled anthem to a somber reflection on his newfound superstar status it's a def 10/10
track 16- ON GOD- one of three features, thugger does not disappoint 8/10
Track 17 10 feet- yet another love song, probably the most lyrical song out of all 7/10
track 18 won't let go- "if she die before me kill me and bury me with her, and if I die before her then shorty dying a widow"
9/10
track 19 -she's the one- probably one of my fav songs, beat selection is on point here 9/10
Track 20- rider - bland ass song worst on the album, but this a 20+ song tape so I'm not surprised 4/10
track 21- make believe
Another favorite of mine, the beat is one of my favorite
"So I took her out and dumped her in the garbage. Stupid done turned herself into a target..."
10/10
if you choose to listen to this tape you'll gotta hear the whole thing out.
easily the best hip hop album of 2019:best beats (Empty, Hear Me calling), aggressive shit (on god, syphillis) and love songs (she's the one desire, flaws and sins)- you are bound to find something good on this tape regardless of what you like to listen to
Let me know if there are any other albums I should review (old or new)
thanks!