These Somali children are starving in the Somali capital and Ramadan is only few weeks away. How much food will you be eating for aftur?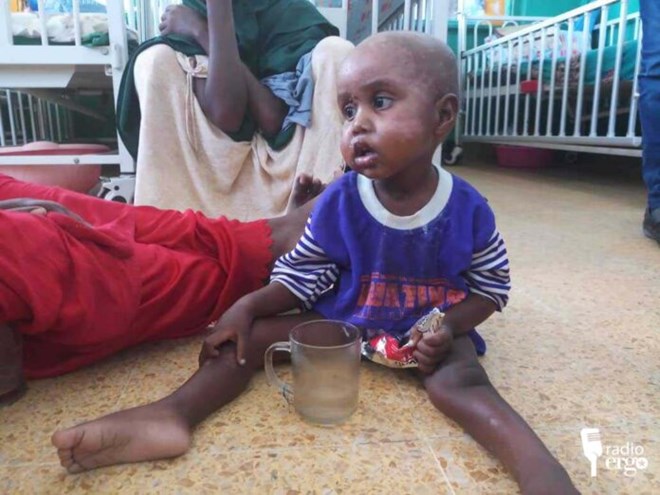 One of the many malnourished children admitted to Benadir Hospital in Mogadishu / Photo: Mohamed Abdi / Radio Ergo /
(
ERGO
) – Forty-five children suffering from acute malnutrition are being treated in Banadir Hospital after being brought from IDP camps in the Somali capital Mogadishu.
Dr. Aweys Olow Hassan, a pediatrician at Banadir hospital, said the children are mostly under five and in poor condition.
"The children are from camps in Daynile, Darkeynley, and Wadajir. They were all very weak and facing acute malnutrition. The numbers we are seeing may rise but so far we are treating the ones we have. They were admitted within the last10 days," DrAweys told Radio Ergo.
Radio Ergo's reporter, Mohamed Abdi, who visited the hospital said some of the children had swollen ankles and feet and bodies. Most of them are from families displaced by drought in southern regions of the country.
Among the parents is Anab Adan Nur, who lives in a camp in Weydow locality of Daynile district.
Her three-year-old son and five-month-old daughter are being fed by a nasal tube in the hospital.
Her son was admitted on 22 March and her daughter the day after.
"I was away when the boy was brought at the hospital. He was brought by his paternal aunt whom he was staying with as I was away in Gof-gadud visiting my sick husband," Anab said. "The next day the girl started suffering from diarrhoea, and I decided to bring her here too."
Halima Osman is another mother staying with her two sick daughters, aged five and eight, at the hospital. She brought them in on 1 April when they fell sick. They are malnourished and also infected with measles.
"They are undergoing treatment but their condition is not stable. They are being fed through this pipe," said Halima.
When asked what food she had available for the children, she said:
"We only depend on what we get from aid agencies and that is not enough."
https://www.hiiraan.com/news4/2019/..._banaadir_hospital_in_malnourished_state.aspx