"In 1972, the first Somali alphabet, using the Latin script, was introduced, and thereafter the Somali language gradually became the official medium of instruction first in the lower and later in the higher classes. In 1974, the Siad Barre 11 regime launched a mass literacy campaign based on the new alphabet, and simultaneously embarked on the expansion of the country's education system. Underlying these developments was the common perception -- and expectation -- that the use of the Somali language was to promote the indigenisation of schooling in Somalia. As a result of these developments, the enrolment figures for primary schools rose from 28,000 in 1970 to 220,000 in 1976, and to 271,000 in 1982. Likewise, the number of primary schools increased from 287 in 1970 to 844 in 1975 and to 1407 in 1980. Further, the number of teachers reached a peak of 3,376 in 1981. In short, by 1980 some definite progress had been recorded in the primary education sector.
Soon, however, formal education in Somalia entered a period of serious decline. With most government expenditure being absorbed by military needs, only very limited funds were available to the education sector. Only 1.5% to 2% of the national budget was being allocated to education in the late 1980s. Schools started to deteriorate rapidly, as administrators and teachers sought better remuneration elsewhere. By 1990, the total number of pupils in primary schools had declined to 150,000, the number of schools had been reduced to 644 and the number of trained teachers had gone down to 611. In this deteriorating situation, the civil war broke out, during which the (formal) education system collapsed almost completely." [Mid-Decade Review of Higher Education - Case Study]
It is estimated that the literacy rate during Barre's regime was roughly 65% of the adult population. [Source: Ministry of Planning and International Cooperation; Current Education Statistics In Somalia]
This is the current literacy rate of Somalia, taken in 2015. [Source: Ministry of Education, Culture and Higher Education; Education Sector Strategic Plan (2018-2020)]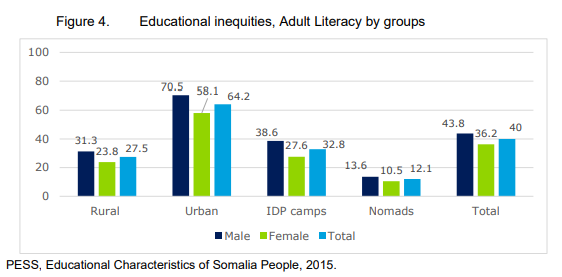 This correlates to the fact that the government has never increased its expenditure on education, dipping continuously since the early 70's. This, of course, is due to the fact that a marginalized economy makes it difficult to reinstate a public educational system.

*Somali education expenditure (1970-2018)