[[Puntland Republic 🇸🇱]]PIM[[C.S(BihinYusuf)]
VIP
HalimoEnthusiast
Officers, K9 exposed to drug while checking vehicle outside military site: police
Two federal officers and a K-9 unit were exposed to PCP as they searched a vehicle that attempted to drive onto a military installation in York County.
Police in Fairview Township were dispatched on Aug. 31 to DLA Distribution Susquehanna at the request of DLA Police.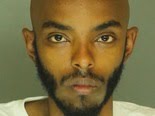 Ahmed M. Ali Police photo

DLA Police told responding officers a tractor trailer attempted to enter the military installation through the Normandy Drive truck entrance. During a K-9 search of the exterior of the vehicle, a K-9 unit "alerted to the truck," according to police.

DLA officers then conducted a consent search of the vehicle, and discovered drug paraphernalia and a green leafy substance in a bag.

Shortly after the search, two DLA officers and the K-9 who searched the truck experienced physical symptoms "consistent with exposure to an unknown substance," according to police.

The officers were transported to Harrisburg Hospital for treatment, and the K-9 was transported to the Rossmoyne Animal Hospital for treatment. The dog tested positive for PCP, police said.

Both officers and the K-9 were treated and released.

As a result, 33-year-old Ahmed M. Ali, of Columbus, Ohio, is charged with aggravated assault on a police officer, possession of a controlled substance, and possession of drug paraphernalia.

Ali was remanded to the York County Prison in lieu of $35,000 bail.
https://www.google.com/amp/s/articles.pennlive.com/news/2018/09/k-9_officers_exposed_to_pcp_du.amp