I have a friend who is going to Somalia.

He knows that when he goes back, girls will throw themselves at him because he has a British passport and hes financially good. And his family is telling him to settle down in Somalia.
He told me that if he finds a hot girl, he will marry her simply because he needs to satisfy his desires;
after all, the religion does say that one should marry rather than commit zina.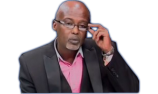 But he also said that he will probably eventually leave Somalia and go back to the u.k; and once he returns to the u.k, he will [without doubt] cut ties with the girl because he has no intention of sponsoring anyone or sending money back to her.

Here is the question: If a sexy girl tries to take advantage of him and seduce him because of his wealth and status

, then is it okay [morally] for him to marry her simply for sex [knowing that he will eventually divorce her]?

In other words, if she is trying to take advantage of him [financially], then is it okay for him to take advantage of her [sexually]? And more importantly, is this situation good or evil according to the deen.
After all, zina is being avoided, albeit for all the wrong reasons