But "We wuz arab"

But "Free Palestine"

He's a Christian Arab from Palestine, who lived in Israel before going to America, soon as he gets to America he kills all the black people he can find.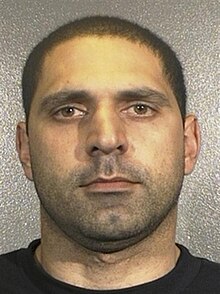 Mugshot of Elias Abuelazam after his arrest for a misdemeanor assault warrant in
Arlington, Virginia
on August 5, 2010
Born
Elias Abuelazam
August 29, 1976
Ramla
,
Israel
Other names
Elias Abullazam
Height
6 ft 5 in (196 cm)
Weight
280 lb (127 kg)
Criminal penalty
Life imprisonment without the possibility of parole
He was 6'5 and his victims were black and around 5'5

http://www.cnn.com/2010/CRIME/08/13/michigan.serial.stabbing.arrest/index.html
Most of the stabbing victims were black. Although federal officials said late on Thursday it was too soon to give a motive, Leesburg, Virginia, Police Chief Joseph Price said he believed the attacker was targeting African-Americans.

"For our community ... when you look at our demographics and you look at the victims here, my belief is he selected the victims in Leesburg based on the color of their skin," Price said.
"Elias Abuelazam, convicted murderer, and suspect of racial serial killing and multiple stabbings. He is suspected in a string of 18 stabbing attacks in the spring and summer of 2010 which resulted in five deaths."

He was convicted and found guilty on everything.
Here's a documentary
He should get the death penalty