So Russia attacked and captured three Ukrainian naval vessels off the Crimean Peninsula. Two gunboats and a tug were captured by Russian forces and a number of Ukrainian crew members were injured.
MOSCOW – Ukrainian lawmakers were set to consider a presidential request for the introduction of martial law in the country on Monday following an incident in which Russian coast guard ships fired on Ukrainian navy vessels.


An emergency meeting of the United Nations Security Council was also called for Monday. The European Union and NATO called for restraint from both sides.


The Ukrainian navy said six of its seamen were wounded when Russian coast guards opened fire on three Ukrainian ships near the Kerch Strait and then seized them late Sunday.


The two nations traded blame over the incident that further escalated tensions that have soared since Russia annexed Ukraine's Crimean Peninsula in 2014 and backed a separatist insurgency in eastern Ukraine.


Ukraine said its vessels were heading to the Sea of Azov in line with international maritime rules, while Russia charged that they had failed to obtain a permission to pass through the Kerch Strait separating Crimea from the Russian mainland.



The narrow strait is the only passage between the Black Sea and the Sea of Azov. It's spanned by a 19-kilometer (11.8-mile) bridge that Russia completed this year.


Ukraine's president, Petro Poroshenko, chaired an emergency meeting of his Cabinet early Monday and asked parliament to introduce martial law in response to what he described as Russian aggression.


"We consider it as an act of aggression against our state and a very serious threat," the president said. "Unfortunately, there are no 'red lines' for the Russian Federation."


The Ukrainian military said that six of the 23 crew on board its three vessels were wounded. Russia's Federal Security Service that is in charge of the coast guard said that three Ukrainian sailors were lightly injured and given medical assistance. It said the Ukrainian boats were towed to the nearby port of Kerch.



Russia closed the Kerch Strait for sea traffic Sunday by positioning a tanker under the bridge spanning it. It reopened the route early Monday.


The seizure of the Ukrainian ships followed a tense situation in which the three Ukrainian vessels were maneuvering near the Kerch Strait for hours shadowed by Russian coast guard boats.


The incident came after months of tensions and incidents in the Sea of Azov that involved inspections and seizures of ships.


While a 2003 treaty designates the Kerch Strait and Sea of Azov as shared territorial waters, Russia has sought to assert greater control over the passage since the annexation of Crimea.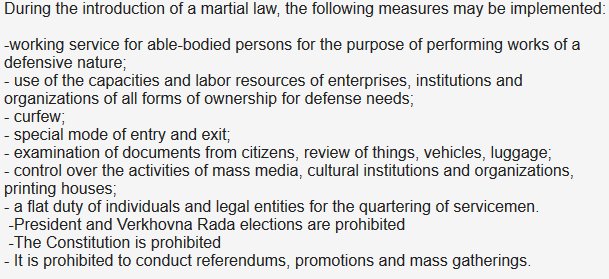 if the world didn't do anything when Russia invaded Ukraine then I can't see anything coming out of this incident other than the usual "thoughts and prayers with the people of Ukraine" and UN whining about Russia.
If Ukraine were to declare state of war with Russians then they would get their ass handed in a day or two.
lol