Olympic hero's forgotten his roots and didn't invite Dad to wedding.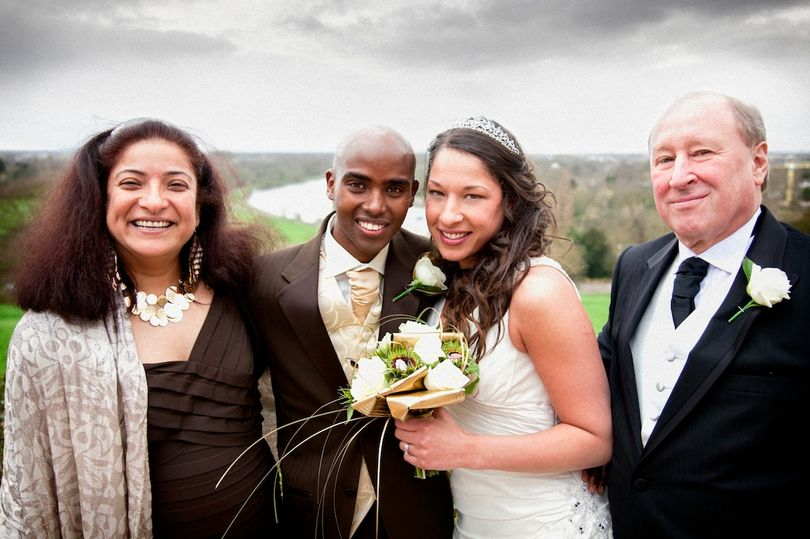 After his double gold medal triumph at the
2012 Olympics,
Mo Farah won the hearts of the nation and became the poster boy for the London games.
But as he became the first Briton to claim both the 5,000m and 10,000m titles, the father who brought him to the UK and helped to kickstart his career was missing from the roaring crowd at the Olympic Stadium.
In fact, Muktar Farah has not heard from his son in several years, according to the superstar athlete's brothers Mahad and Ahmed.
Speaking exclusively to the Sunday Mirror, the brothers – who have a different mother – also told of their sadness at learning of Mo's 2010 wedding to childhood sweetheart Tania through a newspaper.
And they claim Muktar, 53, was devastated when he was not invited.
Mahad revealed: "That hurt my father the most. He wanted to see his son get married in real life, not in a newspaper.
"He didn't want to wake up the next morning and find out his son had got married with-out him.
"They used to be best friends. But things have changed since he got famous."

Elation: Mo wins 10,000 metres at London 2012 (Image: Getty)
Ahmed, 25, was a toddler when their British dad Muktar brought him,
eight-year-old Mo
and another brother Wahib to the UK to escape Somalia.
Mo's twin Hassan remained in the
war-torn country
. But the young lads were separated shortly after Mahad was born in 1994.
After the family were victims of racist abuse, Muktar took three of the boys to live on another council estate with their mum Nimco.
Mo stayed with aunt Kinsi in Hanworth, South West London, as his dad felt she was better able to support his budding athletic ability.
The star's book claims the brothers moved to Brighton, but they claim it was just down the road to Brentford. He still visited the younger brothers, who idolised him, every week.

Prodigy: Mo racing as a boy (Image: NEWSPICS)
But the pair claimed he lost touch when he started to achieve success.
Mahad said: "He just went his own way and stopped speaking to us.
"It's like he forgot his roots – that's the reason why my dad and him don't speak. I haven't even met his kids yet."
Mahad, 21, said the last time he saw Mo was also the final time they exchanged words, at a gathering at Aunt Kinsi's house when he was 14.
He said: "Most of our relatives were there, we used to go and visit to share home cooking and be together as one big family. I never would have thought it'd be the last time I spoke to him."
He added: "Mo always used to ask me about school, telling me to stay on point and make sure I behave. Stuff that any older brother would do.
"He used to do a lot for me.
"My fondest memory is just after he'd bought a shiny new car when his career was taking off.
"I was about 13 years old, so I don't remember much, but he took us to eat out, and we went to visit all of our brothers and sisters.
"We ended up going to the cinema, it was such a great day."

School: Mahad aged about eight (Image: Steve Bainbridge)
Mahad said the older brothers would race each other regularly, while he looked on, unable to keep up.
He said: "He always used to run with my brothers and my cousins. I can't remember if they ever beat him, but I wish I'd been able to race him."
The boys' parents separated after they moved from Brentford to Southall, West London.
Mo's biological mother, Amran, is understood to be living in Africa.
Two of Muktar's former wives live in London, while he currently lives in Manchester with his fourth.
Despite reports their dad was employed as an IT consultant, the brothers said he had a series of jobs as he travelled to be with relatives.
At one point he was a bus driver, and also worked as a general assistant at
nearby Heathrow Airport.
With Mo elsewhere, Ahmed became the oldest brother in the household.

Teen: Brother Ahmed at 15 (Image: Steve Bainbridge)
He left school at 16 to find warehouse work. It was in 2010, after one of the punishing 12-hour night shifts, that he found out about his brother's wedding.
He said: "I finished at about 9am and sat down to read the paper at the café where I usually went. It was plastered all over the place. I just thought 'Oh my god, I didn't even get a phone call.'
"I didn't get an invite. I didn't know it was happening. He kept it quiet. I was happy for him, but I was sad at the same time, because I wished I could have been there."
Mahad added: "Dad wasn't happy. He got a phone call off one of his mates saying his son had got married, and went to a shop to get a newspaper to read about it. What father would be happy if his son got married without him?"
Ahmed is currently fighting extradition after being jailed for his part in a knifepoint raid in 2010.
He said: "I made a mistake, and I've paid the price. All I want to do is get back to work, and provide for my family and pay my taxes again like I used to."
Still close: Ahmed and Mahad Farah (Image: Steve Bainbridge)
While Ahmed was still in jail when his brother hit double gold, Mahad also missed the momentous occasion despite living just 16 miles from the stadium.
He said: "I was going to go to the Olympics to support him, but I realised I didn't want to just go and be another face in the crowd.
"I ended up watching it on TV. Everyone in our family did – there were about 20 of us in the house. My mum, some of my brothers and all of our neighbours were there.
"We all still supported him, because we do still love him. We all cheered him on, there was a screen in every room.
"It was one of the best feelings in life, to see your brother motivated and win at the Olympics, with millions of people cheering him on. But I just wish I could have been there by his side."
Alan Watkinson, the teacher who first spotted Mo's potential, has suggested the family did not support the prodigy,
But the brothers claim this is nothing more than a story designed to portray Mo as a rags-to-riches figure.
Golden days: Mo kisses medal (Image: Jamie McPhilimey)
Ahmed said: "God knows the amount of stress and hardship my dad went through to leave a country that was in civil war, to come and to start a life here and to bring us over.
"That, in itself, I owe him for ever for it. He went through a lot to bring us all here so we could have a better life."
Mahad added: "We're a proper family unit, and we always help each other through the worst times. It p***** me off. My aunt even hired a coach just to get him to one of his events once."
Nobody has requested financial help from Mo, 32, but they say their attempts to contact him in recent years have fallen on deaf ears.

Fad: Everyone do the Mobot! (Image: Getty)
Mahad said: "He has people around him telling him what to say, what to do. We've tried to contact him but we just can't get through."
But the brothers said they would welcome Mo back with open arms if he decided to get in touch, although they remain unsure if he ever will.
Mahad said: "The man has his own foundation. He has helped millions, and inspired us all. But he's our brother, and I don't know if sacrificing your entire family is worth it."
Ahmed added: "We love him as a brother, but at some point you have to wonder why you keep loving somebody when it seems they don't love you back."
A spokesman for Mo Farah declined to comment.