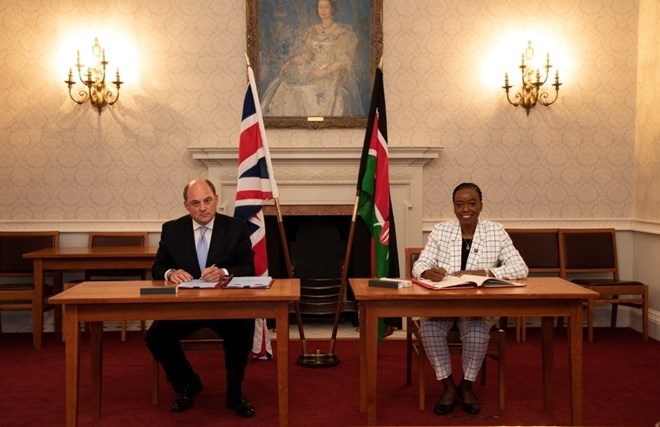 London (HOL) - The United Kingdom and Kenya have signed a new five-year defence cooperation pact that would see 1,100 Kenyan soldiers be trained by the UK annually in preparation for deployments to Somalia and additional training for the Kenyan Navy.
As a part of the deal, the UK promises to invest KES 1.165 billion ($10,727,440) annually into the defence partnership.
The Defence Cooperation Agreement (DCA) was signed by Kenyan Cabinet Secretary for Defence, Dr. Monica Juma, and her UK counterpart, Defence Secretary Ben Wallace, on Tuesday at the Ministry of Defence offices in London.
Kenya's President Uhuru Kenyatta is currently in London for a three-day visit where he is co-chairing the Global Education Summit with UK Prime Minister Boris Johnson.
UK's Defence Secretary, Rt Hon Ben Wallace, said the Kenya-UK strategic partnership would keep both nations safer.
"Kenya has long been our defence partner of choice in East Africa and, in a more uncertain world, we will continue to stand shoulder-to-shoulder as we tackle the threats of tomorrow."
The five-year Defence Cooperation Agreement must first be ratified by both the UK and Kenya's respective Parliaments before it comes into effect.