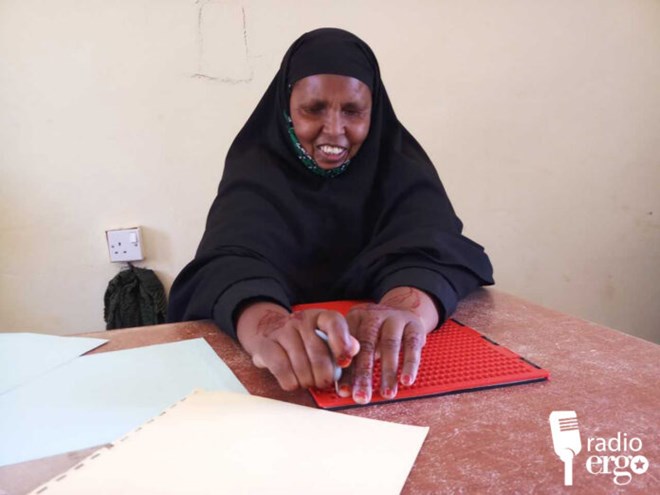 Asha Dalmar, photo: Abdirahman Mohamed/Radio Ergo
(
ERGO
) – Having been blind for half a century and never giving up on her dream of education, a 53-year-old Somali woman from Puntland is finally living her dream at a school for the blind.
Asha Dalmar lost her sight as a small child in the late 1960s when her family was living in a rural part of northern Somalia's Togdher region.
"I was two years old when I lost my sight" Asha narrated. "I cannot figure out the cause. I think it was in 1968 based on what my father told me."
When drought hit their village in 1980, Asha moved to Mogadishu to stay with a relative. It was there much later on that she discovered that education for the blind was possible.
"The news that there is education for disadvantaged people came to my knowledge only in 2000 from a relative, but I did not know where to start," she said.
For a brief four months in 2005, on returning to the north to live in Burao, she started classes at a new school for the blind. Sadly the school closed due to lack of funds, but it had given her the taste of what it would be like to be able to read and write.
"During that short period, I managed to learn the Braille alphabet. I also learnt how to dial numbers on my phone, as I always use my phone to keep in touch with my family," she said.
Last year, she heard about Basra School for the blind in Garowe. She made arrangements for other relatives to take over care of her elderly father and went to Garowe determined to enroll.
Taking up the story, Sa'adia Khalif Mohamud, deputy head teacher of Basra School, says they were impressed by Asha's commitment to memorising the Holy Quran and enrolled her in February.
"We have rented a room for her and the school is ready to provide her accommodation and transport to and from the school. We hope that this support continues as long as she is in the school," she said.
The school, established in 2008, is funded by Puntland state government.
An elated Asha told Radio Ergo that she was delighted to have resumed her education and has even bigger dreams for the future.
"I now am able to read and write using Braille and I am learning Arabic and religious studies. I expect to complete my education course here in two years," she said.
"Then I want to become a teacher and stand up to support my fellow blind people. Education is very important for all of us."
https://www.hiiraan.com/news4/2019/...goes_to_school_after_decades_of_struggle.aspx
Well done Eeddo Asha.
@Basra
school for the blind. Congratulations Puntlander.