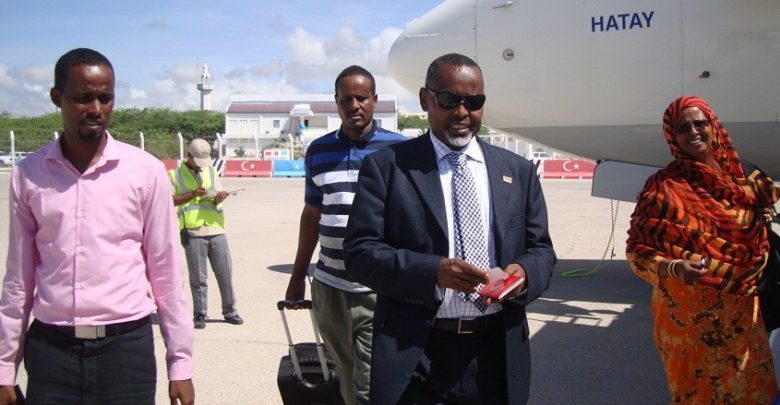 Somalia's ambassador to Kenya, Mohamud Ahmed Nur Tarsan, arrived back to Mogadishu on early Sunday after the Kenyan government has last night ousted him to leave the country over an alleged land grab by Somalia.

Kenya has cut off diplomatic relations with Somalia, according to Somalia's alleged abduction, and has pledged its support.

Kenya's Ministry of Foreign Affairs Permanent Secretary Macharia Kamau said Kenya would never ignore this and recall as a consequence of a most regretful and egregious decision by the government of Somalia to auction off oil and gas blocks in Kenya's maritime territorial area that borders Somalia.

"I have to make no abuse of illegal possession of Kenya, cannot be silent, and is equivalent to an act of hatred against the people of Kenya and their property," said Macharaia.

Ambassador Tarsan private flight from Nairobi was accompanied by Zainab Abdi Maalim, the first lady of the Somali president who arrived in Nairobi last night from Qatar.

The Somali government has not yet commented and not taken any visible action taken against the Kenyan government's new approach.
https://goobjoog.com/english/ambass...ishu-after-kenya-ousted-him-from-the-country/