There are many things that I admir about Somaliland. They don't believe in Somalimo but believe in themselves. Would a loser like Farmajoo ever become president of Somaliland? Hell no. Why are there 60 blood suckers in Mogadihsu who claim to represent Somaliland when they only represent their pocket.
Ajanaabis ask me are you from Somaliland or Somalia, which is code word for, are you civilized or a savage. I wish my people were more like Somalilanders. What is this thing doing in Mogadishu?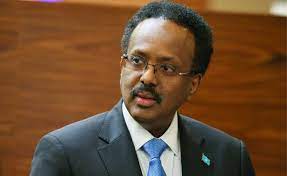 And how did this reer Lascanood thing become the head of police for Mogadishu?
And how did this thing become the finance minister of Mogadishu
A strong independent Somaliland would never be a threat to me. A Somaliland open to do bushiness with the world and import tanks and build up its military would never be a threat to me. In fact a strong independent Somaliland could be of help to me. I don't share a border with them or have any land disputes. The same way that Djibouti is pro Irir, Somaliland would too be pro Irir.
Shout out to Somaliland building the Maydh Jetty
Last edited: